This is AI generated summarization, which may have errors. For context, always refer to the full article.
(1st UPDATE) President Ferdinand Marcos Jr. gives a keynote hologram address at the Singapore Fintech Festival 2023 in the city-state while in the US for the APEC Summit and other engagements
SINGAPORE – President Ferdinand Marcos Jr. "appeared" at the Singapore Fintech Festival to give a keynote address, but rather than delivering the talk in person, the President instead spoke as a hologram.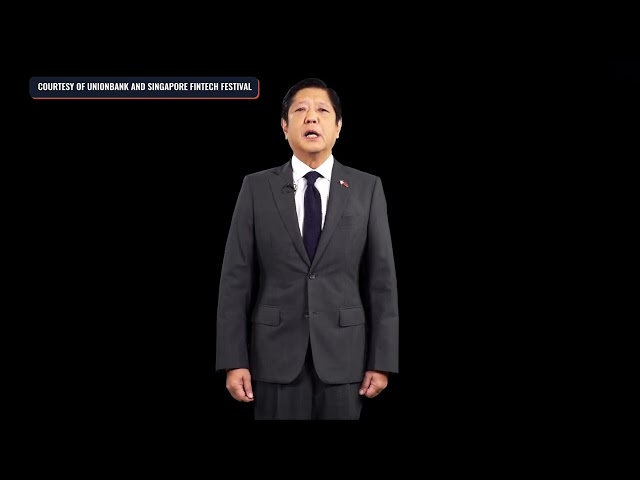 Specifically, Marcos discussed "accelerating ESG [Environmental, Social, and Governance], advancing talent, and efficient payments" to an audience composed of international bankers and major players in the global financial system.
The Philippines, the President said, is open for business and investments.
"We invite you to look at these startups and explore potential partnerships to ensure our mutual growth and shared prosperity," the President said during his keynote address.
Marcos pointed to the "digitalization of all cashflows" in the country, as well as the growth of its digital banking industry. According to 2022 data from the Bangko Sentral ng Pilipinas, digital payments now account for 42.1% of total retail payments, up from the low 14% pre-pandemic figure of 2019.
The President also highlighted the Private Sector Advisory Council's GoDigital Pilipinas movement, which is expected to provide practical recommendations on how to use technology to empower citizens.
Marcos is no stranger to the Philippines' richest ASEAN neighbor. In fact, he's been to Singapore three times already in the past nearly year-and-half since becoming President – once for his first presidential visit, another to watch the Singapore Grand Prix in an unannnounced visit, and the latest to celeberate his birthday and watch the Singapore Grand Prix again.
But the President's presence was limited to a digital display because he's currently tied up in the 2023 Asia Pacific Cooperation (APEC) Summit in San Francisco, California.
To achieve the hologram, a hologram projector screen was used against an all-black background, creating the illusion of the President's 3-D image. Marcos' message was recorded a week before he left for the US.
The hologram address was arranged in collaboration with UnionBank, UnionDigital, Singapore Fintech Festival, Monetary Authority of Singapore, Presidential Communications Office, and Radio Television Malacañang.
Besides Marcos, other prominent speakers at the festival include Singapore President Tharman Shanmugaratnam, World Bank President Ajay Banga, and International Monetary Fund Managing Director Kristalina Georgieva. – Rappler.com
Disclosure: The author is part of a media delegation to the Singapore FinTech Festival 2023 sponsored by Union Bank, an exhibitor in one of the festival's 16 international pavilions.