Mobile phones are also confiscated inside Bilibid so authorities can check if the phone of the alleged middleman is among them, says BuCor acting chief Catapang
MANILA, Philippines – Bureau of Corrections (BuCor) acting Director General Gregorio Catapang Jr. said there are now 13 persons deprived of liberty (PDL) who are considered persons of interest in the killing of hard-hitting broadcaster Percival "Percy Lapid" Mabasa.
"Ang alam ko, apat no'ng una. Tapos sumunod pito. Tapos naging plus one, nando'n sa Iwahig (in Palawan). So 12, 12 na," Catapang said during a press briefing on Wednesday, November 2. (As far as I know, initially, there were four, followed by seven. Then another one from Iwahig. So 12 already.)
"Plus one pa, 'yong nando'n sa ISAFP (Intelligence Service of the Armed Forces of the Philippines). Thirteen kung hindi po ako nagkakamali," Capatapang added. (Then another one, the one under ISAFP. Thirteen, if I'm not mistaken.)
Lapid was gunned down by self-confessed gunman Joel Escorial and his companions on October 3 in Las Piñas City. Shortly after Escorial surrendered, the government announced that there were two alleged middlemen who are PDLs: Jun Villamor from the New Bilibid Prison and Christopher Bacoto, under the Bureau of Jail Management and Penology.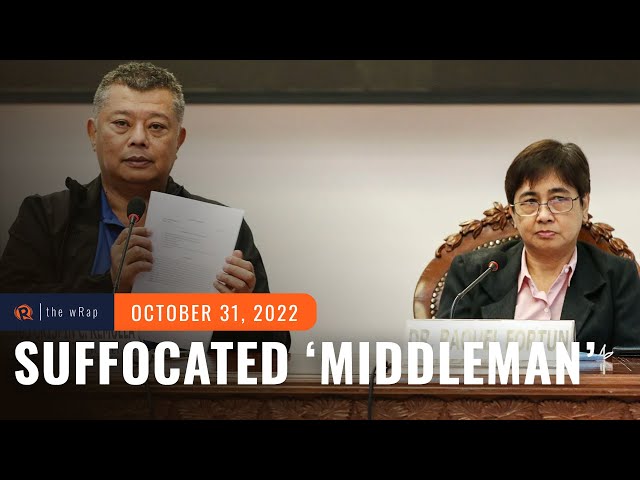 However, on October 20, Department of Justice (DOJ) Secretary Jesus Crispin "Boying" Remulla said Villamor died inside Bilibid. While Villamor's first autopsy indicated there was "no apparent sign of external physical injury," his second one conducted by forensics expert Dr. Raquel Fortun revealed he died after he was suffocated with a plastic bag.
Bacoto, meanwhile, has been secured, according to Remulla.
Before his death, Villamor named more people who may be possible masterminds in Lapid's killing. Last week, Remulla said these people were already under the custody of the DOJ.
As of October, 160 persons of interest have been identified in the case. Among them is suspended BuCor chief Gerald Bantag, whom Catapang replaced.
Confiscations
On Wednesday, Catapang also announced that they had confiscated 7,000 canned beers and suspected shabu inside the maximum security compound of Bilibid. Aside from these, mobile phones and deadly weapons were either surrendered to, or confiscated by, BuCor officials.
Catapang said he will ask their forensics team to check whether Villamor's phone was among those confiscated by the bureau.
Villamor's phone is essential in the probe because he was able to communicate with his sister Marisa, not her real name, while he was inside Bilibid. Marisa later gave names to the DOJ, of who may be possible masterminds behind the killing.
Cellphones are strictly prohibited within the BuCor premises, so authorities have yet to explain how the alleged middleman was able to use a phone while inside Bilibid. Carrying phones even for BuCor personnel on duty is also prohibited. – Rappler.com