(UPDATED) Calida also goes after petitioners saying they have not 'spoken out' against terror acts. 'If silence is complicity, there can only be one inescapable conclusion,' he tells justices.
Solicitor General Jose Calida red-tagged progressive lawyer Neri Colmenares and other progressive groups during his opening statement to the Supreme Court in the anti-terror law oral arguments held online on Tuesday, April 27.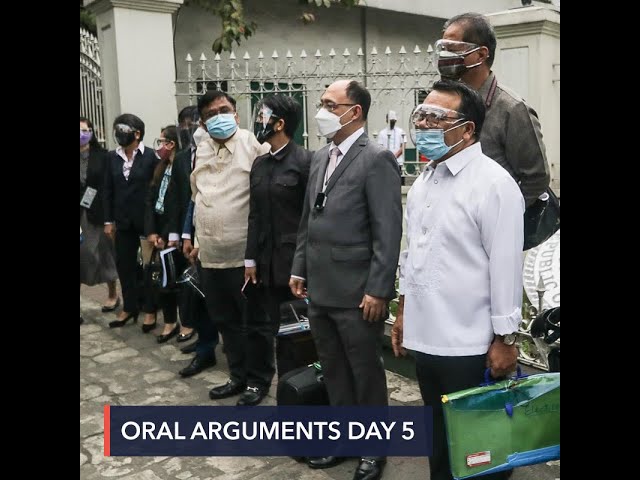 After a rundown of recent raids into offices and supposed "armories" of communist rebels, Calida mentioned that law enforcement also recovered elections paraphernalia of Colmenares, his party list Bayan Muna, and another party-list group Gabriela.
"Likewise discovered in the armory were subversive documents, streamers, campaign paraphernalia of Congressman Colmenares, Bayan Muna and Gabriela, and training materials on advanced revolutionary warfare," said Calida.
Colmenares is counsel to one of the 37 petitions.
After mentioning attacks of terror group Abu Sayyaf, Calida went after the petitioners, too.
"Petitioners have never spoken out against the recent atrocities committed by terrorists against our people, if they have never taken a stand on these acts, and if silence is complicity, there can only be one inescapable conclusion," said Calida.
Before red-tagging Colmenares and the groups, Calida said the Communist Party of the Philippines–New Peoples' Army (CPP-NPA) "always resorts to acts of terror in its bid to seize control of the government through armed struggle."
Communism is not a crime in the Philippines after the repeal of the anti-subversion law in 1992.
Alleged armed combatants are usually prosecuted for terrorism and rebellion.
Activists that the government links to the underground NPA are prosecuted, charged and tried for common crimes, usually the non-bailable offenses of illegal possession of firearms and explosives.
There's been a spate of such arrests in the recent months, including the 9 activists in Calabarzon who were just subjects of search warrants. They were killed by law enforcement because they supposedly fought back while resisting arrest. That event is not infamously called the Bloody Sunday incident.
Colmenares: 'Red-tagging is deadly'
After the session was adjourned, Colmenares was allowed to make a manifestation and called Calida's statement "uncalled for."
"The respondents may say, 'oh we're just stating a fact, we're not really implicating you in a crime.' So whats' the use of mentioning my name? This is red tagging then in the end," said Colmenares.
Colmenares did not ask the Court to sanction Calida, or did not specifically ask to hold the solicitor general in contempt, but he said: "I would like for the Court to consider that this should not have been mentioned because for people like us, this is red tagging and this is dangerous."
"Red tagging in ordinary times may be considered a libelous statement, but now Your Honor, red tagging is a deadly offense," said Colmenares.
The Supreme Court resumed the oral arguments on Tuesday after 2 months' worth of postponements because of COVID-19 precautions. It held the oral arguments online for the first time in the Court's history.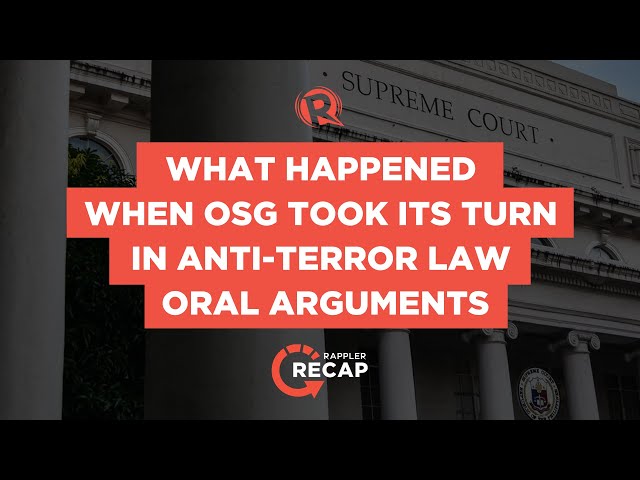 Political question
Calida delivered an hour-long opening statement, before letting his Assistant Solicitors General (ASGs) take the interpellations from justices. The interpellations were ongoing as of writing.
In his opening statement, Calida defended the anti-terror law by saying it's a political question. In cases of political question, the judiciary resists reviewing the actions of its co-equal branches, although this doctrine is constantly blamed for validating Ferdinand Marcos' Martial Law.
"The doctrine of separation of powers barricades it from judicial scrutiny. The determination on this matter exclusively rests upon Congress. Due deference from the Courts, including this Honorable Court, is expected," said Calida.
The justices met en banc earlier Tuesday but they were still to resolve the motions for a Temporary Restraining Order (TRO). Several reiterative motions had been filed as situations escalated on the ground, such as the attack on an anti-terror law counsel in Iloilo, the arrest of a petitioner in Cebu, and threats from General Antonio Parlade against the petitioners.
Calida, though, had been repeatedly granted extensions to comment on the motions.
The feared law has been in effect for 9 months now, without a TRO.
Two Aetas from Zambales are on trial before an Olongapo court for terrorism, for allegedly killing a soldier in an encounter. The government accused them of being NPA rebels, but the Aetas claim they were tortured into confessing such.
The Supreme Court denied the Aetas' petition for intervention, citing the ongoing trial in a regional trial court.
That the Aetas are not petitioners are Calida's grounds in saying there's no actual case, because there is no current petitioner who has suffered directly from the law.
– Rappler.com