Former DSWD secretary Erwin Tulfo says the president was accessible and hands-on in the department's affairs.
MANILA, Philippines – Over a month after Erwin Tulfo made a quiet exit as Department of Social Welfare and Development (DSWD) secretary of the Ferdinand Marcos Jr. administration, he said that the President was "easy to work with" but was also hands-on on some occasions, providing a rare peek into the opaque administration and how the president works behind the scenes.
"To tell you the truth… it's easy [working with Marcos]," Tulfo said during a Rappler Talk interview on Wednesday, January 25. (READ: Rappler Talk: Erwin Tulfo after his Marcos Cabinet stint)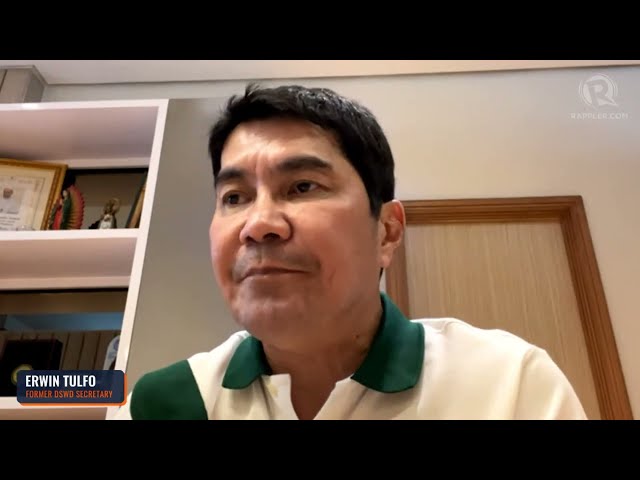 "Honestly, when we ask for funding for disasters, like what happened during the first earthquake in Abra, we sent funds [to the province]. Then suddenly a tropical storm followed, there was flooding in that region again so our funds were depleted. I said 'sir we need funding to replenish.' All he told me was to talk to (Budget) Secretary Pangandaman, and that's it," Tulfo said in a mix of Filipino and English.
During his time as DSWD secretary, Tulfo said his biggest challenge was the red tape and complicated bureaucracy.
"When someone would ask for funds like burial or hospital expenses, they would want their relative out of the hospital but they need funds. They'd bring the medical bill, ID, other paperwork, and they'd have to return after 3 to 7 days, of course the bill would accumulate," Tulfo said. "What I did was, I gave a directive, if possible, to make the fund release the same day for the medical bills," he added.
Tulfo said the streamlining of requirements was also supported by the President. "I asked permission from Malacañang, and they said to do it," the former social welfare secretary said.
The President was sometimes hands-on in the DSWD, or even "micromanaging," Tulfo said.
"There are instances where he micromanages. like distribution of relief packs. 'I heard a certain mayor didn't get any, there in Bicol or Mindanao,' [Marcos] would tell me," Tulfo said. "Most of the time he'd let us do what we needed to do," the former broadcaster added.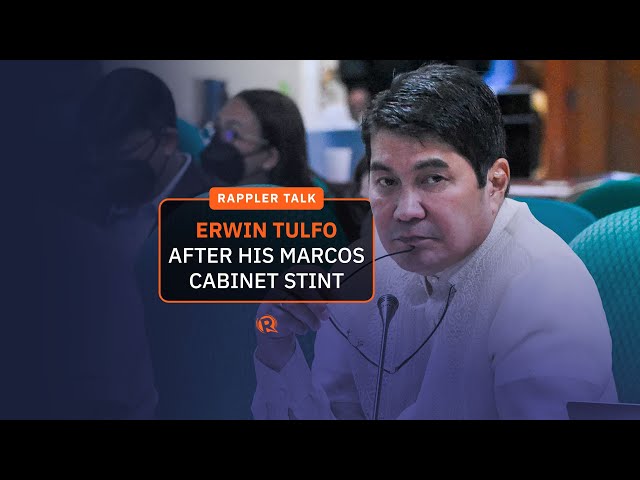 When he was social welfare secretary, Tulfo said they also had a "direct line" to the president, if they needed to reach him to consult on department matters.
No longer US citizen
Tulfo faced intense grilling by the Commission on Appointments, who raised his being a former United States citizen and a libel conviction, as the reasons for his being bypassed.
On his US citizenship, Tulfo said he had renounced it over a year ago, but that there were complications.
"The situation is complicated, even until now," Tulfo said. "It's really hard to answer because… as far as the documents I have, it states that I'm no longer an American citizen," he added.
Tulfo said the last time he used his US passport was over a year ago, before his appointment.
Despite not being able to hurdle the CA, Marcos said that he was keen on keeping Tulfo in the administration, citing his performance as DSWD secretary. (READ: Marcos wants Erwin Tulfo to stay in admin)
While Marcos and Tulfo mutually agreed that the latter would step down from his Cabinet position, the President asked him to remain until an officer-in-charge would be appointed to head the department.
It was announced last December 27 that another former journalist, Edu Punay, would take over as DSWD officer-in-charge.
While Tulfo said he has yet to discuss with the President what the specific role would be for him, he said he was open to taking up another position with the Marcos administration.
"If it's social services again, then I'll take the job," Tulfo said. – Rappler.com