Make It Makati has said that it is converting Ayala Avenue's dedicated bike lanes to 'shared' lanes with public utility vehicles to better serve PUV users, but a commuters' advocate questions why the car lanes are 'untouchable'
MANILA, Philippines – The forthcoming conversion of protected bicycle lanes along Ayala Avenue in Makati to "shared" lanes with public utility vehicles will only serve car owners, not cyclists or PUVs, a commuters' advocate said on Thursday, February 16.
In a Rappler Talk episode on Thursday, Move As One Coalition coordinator Hya Bendaña questioned why cyclists and PUV commuters were made to share a single lane when an overwhelming majority of Filipinos do not own a car.
"Bakit parang untouchable 'yung linya ng mga kotse? Bakit parang kahit na 94% ng mga Pilipino ay walang kotse – kami 'yung pedestrians, kami 'yung commuter, kami 'yung PUV users, kami 'yung cyclists – bakit yung 94% na 'yun 'yung magtiyatiyaga magkompetisyon at mag-share para sa isang linya?" Bendaña said.
(Why is the line of cars untouchable? Why is it that, even if 94% of Filipinos don't have cars – we are the pedestrians, commuters, PUV users, and cyclists – why is it that that 94% would have to share and compete for one lane?)
Bendaña was referring to a Social Weather Stations survey conducted in April 2022 that found that just 6% of Filipinos owned four-wheeled motor vehicles. Bicycle owners outnumbered car owners by around a fourfold, at 23%. This is the national figure.
In Metro Manila, car owners had the same proportion at 6%, but the proportion of cyclists was even higher than the national level – 32%.
Make It Makati, a collaboration of the local government, Ayala Land, and the Makati Commercial Estate Association, announced on February 10 the conversion of bike lanes to "sharrows" or "shared" lanes that would compel cyclists to share their dedicated lanes with PUVs.
Make It Makati said that the policy would "help improve traffic flow in the city" and "better serve the commuting public."
Following opposition from cyclists and other advocates, Make It Makati deferred the conversion from February 15 to March 6 to make way for dialogue, saying that the biking community is an "important part" of the commuters they serve, and that it "valued their sentiments."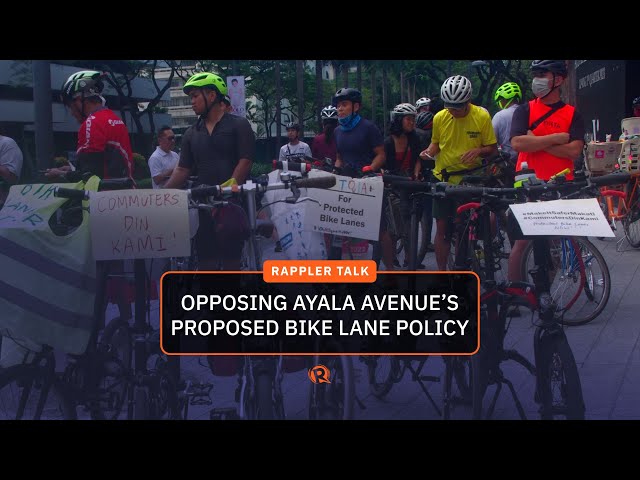 In the Rappler Talk episode, Bendaña also spoke from the context of her father being a jeepney driver for over 20 years. She had worked with him as a conductor for at least seven years.
"Alam namin na hindi kasalanan ng mga pedestrian, na hindi kasalanan ng mga cyclist 'yung traffic natin. Kasi every time na naiipit kami.. alam namin na naipit kami sa traffic dahil sobrang daming kotse," she said. (We know that traffic is not the fault of pedestrians or cyclists. Because every time we get stuck in traffic, we know that it's because of the volume of cars.)
The commuters' advocate said that if Make It Makati really valued commuters' welfare, the solution would be to lessen one car lane and implement a PUV-only lane.
Ayala Avenue has four to five lanes on each side. According to Make It Makati, there are 1,073 buses authorized by the Land Transportation Franchising and Regulatory Board to ply Ayala Avenue as of January 2023. This represented a 34% increase compared to early 2019, when there were 799 LTFRB-authorized buses on the major street in Makati's central business district (CBD).
Make It Makati said that commuter traffic at the One Ayala terminal has increased from 10,000 a day in November 2022 to about 37,000 a day as of January 2023. It said many of these commuters come from Ayala Avenue and other areas in the Makati CBD.
"With the re-opening of the economy, the demand for public transport has increased substantially not only in Makati but throughout Metro Manila. This necessitated the need for the sharrow bike lane project along Ayala Ave to make more room for public transport and commuters," Make It Makati said on February 11, prior to the announcement to defer the plan.
Risk and hope
During the Rappler Talk episide, Lester Babiera, founder of cycling advocacy page First Bike Ride, shared that when he was riding with a "newbie" cyclist in the Ortigas-San Juan area, a vehicle obstructed the bike lane, and his companion crashed while attempting to avoid it.
Babiera said that the ambulance took a while to arrive, suspecting that it was because of traffic. His companion also faced a P40,000 hospital bill for the injuries.
"He was not able to work during that time because he was injured. Not to mention the stress and trauma that crash victims feel. So, you know, removing protective barriers can discourage people who may possibly want to cycle, and there are so many implications on safety," he said in a mix of English and Filipino.
Corinna Pettyjohn, a mother who uses a bicycle to commute with her two small children in bike seats, highlighted the danger of "institutionalizing" a policy that would make cyclists share lanes with larger vehicles.
"We're put at risk because of having to leave bike lanes, or any lanes to merge with a faster-moving lane. Every time we do that, that's a risk. And so if it becomes an institutional policy that we have to be leaving the bike lanes regularly, eventually there are going to be accidents," Pettyjohn said.
Babiera said he believed Ayala Avenue had one of the best bike lanes in the country, and removing its protected bike lane makes cyclists "lose hope" that these can be replicated in more cities around the Philippines.
"Ayala Avenue was able to do it, so other cities can do it too – not just in Metro Manila, but other place in the Philippines. So when they wanted to remove them, it's like they removed our hope to have better, safer roads for the whole Philippines. And for what? To serve what?" Babiera said.
"Sana mabigyan ng din chance 'yung ibang tao na maging confident na mamiskleta, and it's through these protected bike lanes sana," he added. (I hope more people can be given a chance to be confident to ride bicycles, and it should have been through these protected bike lanes.) – Rappler.com