The Bureau of Fire Protection in Basilan says DNA tests may be necessary to identify the fire victims found in the ferry
BASILAN, Philippines – A search team has retrieved 17 charred remains of passengers from a ferry that caught fire off Hadji Mutamad town in Basilan province an hour before midnight on Wednesday, March 29.
On Friday afternoon, March 31, smoke still billowed from the ill-fated ferry, MV Lady Mary Joy 3, indicating that parts of the vessel were still burning on the second day of the search for bodies. The heat and lack of equipment have slowed down the search.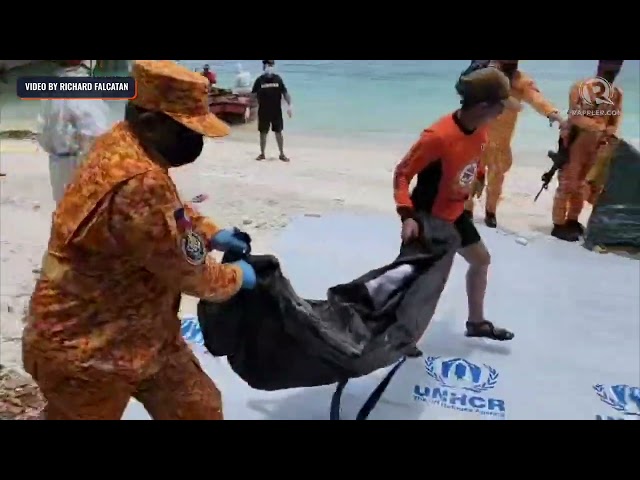 Bureau of Fire Protection-Basilan chief, Senior Superintendent Kadil Acalul, said they fear more bodies may be found in the ill-fated passenger ferry as a team continued to slowly search the vessel. He said the search may last for a few more days.
The bodies found and retrieved from the vessel, now grounded on the shore of Baluk-Baluk Island, Hadji Mutamad town, were beyond recognition and will be brought to Zamboanga City, where many families await.
Acalul said DNA tests may be necessary to identify the fire victims found in the ferry that was bound for Zamboanga City from Sulu. He added that the vessel still had more cabins and compartments that have yet to be searched.
As of Friday afternoon, Basilan's Provincial Disaster Risk Reduction Management Office (PDRRMO) reported that they had counted 29 bodies, and 22 other passengers remained missing, including five soldiers.
Basilan Governor Jim Hataman Salliman said on Thursday that the body count reached 31, and Representative Mujiv Hataman said that more than 30 people died in the tragedy.
Based on the passenger manifest of MV Lady Mary Joy 3, there were 252 people, including 35 crew members, several Coast Guard personnel, and Army soldiers on board when the fire broke out near Baluk-Baluk Island.
Investigators were still trying to find out the origin and cause of the fire. They first boarded the vessel on Friday morning before PDRRMO started retrieving the bodies from six cabins. After the equipment arrived on the island, firefighters used it to spray the vessel with seawater.
Nickson Alonzo, the PDRRMO head, said some survivors reported that the fire started in one of the cabins of the vessel.
Aleson Shipping Lines, the owner of the ill-fated vessel, said it would cooperate in the investigation into the tragedy.
Speaking on behalf of the company, Zamboanga City 1st District Representative Khymer Olaso said the shipping firm would also aid the victims and their families.
The firm, which is owned by the congressman's family, operates a fleet of 25 vessels and is a major player in the shipping industry in Western Mindanao.
Maritime Industry Authority (MARINA) Administrator Hernani Fabia has ordered a marine safety investigation on MV Lady Mary Joy 3 to determine whether the owner and crew of the vessel complied with all necessary procedures before the passenger ferry sailed.
MARINA also ordered an investigation into all vessels operated by Aleson in the aftermath of the tragedy. – Rappler.com