This is AI generated summarization, which may have errors. For context, always refer to the full article.
The Marcos administration continues the Duterte-era practice of excluding the Commission on Human Rights on matters related to the drug war, but CHR remains hopeful this will change
MANILA, Philippines – The Commission on Human Rights (CHR) remains out of the loop in the Marcos administration's efforts to investigate drug-related killings committed under Rodrigo Duterte's violent war on drugs.
Chairperson Richard Palpal-latoc said the commission is yet to be invited to engage with the drug war review panel led by the Department of Justice (DOJ), an initiative under the Duterte administration that sought to investigate thousands of extrajudicial killings. 
"Sa pag-imbestiga sa extrajudicial killings, wala pa pong imbitasyon sa amin tungkol doon, but if ever na kami ay hilingin na sumama or kung anuman maibabahagi namin doon, willing po kami," he told reporters on Monday, August 14.
(In investigations of extrajudicial killings, there still has been no invitation for us about that, but if ever we are asked to join or share what we can, we are willing to help.)
In June 2020, then-justice secretary and now Solicitor General Menardo Guevarra even told the United Nations (UN) that the CHR "will be involved as an independent monitoring body," and that its "continued, unhampered function underpins our strong position against calls for an independent investigative mechanism."
Palpal-latoc said the Marcos administration has not given any reason for their continued exclusion on matters related to the government's investigations into drug war killings under Duterte.
"Wala pa, kasi hindi pa napag-usapan 'yan, kasi hindi pa nabanggit sa amin (We haven't talked about it, they haven't told us the reason)," he said.
Rappler on Monday, August 14, reached out to DOJ spokesperson Mico Clavano to inquire on the status of the drug war panel, as well as its plans on engaging with the CHR. We will update this story as soon as we get a reply. 
The much-touted review panel was created in 2020 as a response to the increasing criticism of drug war killings, including significant developments at the International Criminal Court (ICC). It was considered a big factor why the Duterte administration was able to deter tighter scrutiny, at least from the United Nations (UN). 
But human rights groups have consistently criticized the panel for failing to show significant achievements, despite discovering that there were lapses in protocols during police operations.
In September 2022, the UN Office of the High Commissioner for Human Rights said drug war victims and their families still have "very limited" access to justice and pushed the drug war review panel to "accelerate" its work, among other recommendations.
Even ICC prosecutor Karim Khan, who is continuing his investigation into Duterte's drug war killings, said that the panel "merely conducted a 'desk review'" of cases and that it "does not constitute investigative activity" and "cannot justify deferral of the [ICC]'s investigation."
Government data shows that at least 6,252 individuals were killed in police anti-illegal drug operations alone as of May 2022. This number does not include those killed vigilante-style, which human rights groups estimate to be between 27,000 and 30,000.
Continued exclusion
The continued exclusion of CHR from drug war-related investigations under Ferdinand "Bongbong" Marcos Jr. is reminiscent of its experience under Duterte. The commission, mandated by the 1987 Philippine Constitution to probe into abuses committed by the state, was heavily demonized and attacked by the foul-mouthed Duterte and his allies. 
While it was able to continue its own investigations, CHR faced several challenges, particularly tethered to the lack of transparency and non-cooperation of the government. This was the reality despite promises made to the United Nations and other international independent bodies that have continued to criticize the drug war.
Duterte's term ended with the government failing to clarify CHR's role in the drug war review panel. Meanwhile, a May 2022 report by the commission stated that its investigations were "hampered by the predilection and uncooperativeness" of government agencies. Subpoenas and requests for vital reports and documents were also often "refused, denied, or ignored."
In the report released a month before Duterte left office, CHR said that it found indications in the injuries of victims that reflect "the brutality of the anti-drug campaign and [point to] possible abuse of strength and intent to kill by the perpetrators." It also found that the Duterte administration has "failed in its obligation to respect and protect human rights of every citizen, in particular, victims of drug-related killings."
What happened to the report? Palpal-latoc said the commission shared its findings with other government agencies and got varying responses. 
"Iyong iba ay acknowledge naman na natanggap nila ang aming report on the killings in relation to the drug war, iyong iba tinugunan naman ang ilang rekomendasyon," he said.  
(Some acknowledged that they received our report on the killings in relation to the drug war, others acted on our recommendations.) 
CHR continues its own investigations despite issues of manpower and other resources, on top of non-cooperation from state agents. 
As of May 2023, it has filed and referred 101 criminal cases of drug-related killings to appropriate authorities, including 21 in trial courts, 37 with the Office of the Ombudsman, and 43 pending before prosecutors. There are also 106 administrative cases with the PNP's Internal Affairs Services, 2 with the National Police Commission, and 42 with the Ombudsman.
Sol Iglesias, assistant professor of political science at the University of the Philippines-Diliman, said that the incumbent CHR en banc should do more to ensure that the government takes on the commission's own recommendations.
"The CHR needs to assert its indispensable role in seeking justice and accountability for the victims of this violent campaign," she told Rappler on Wednesday, August 16, including assessing whether the government "has responded in a satisfactory manner to the CHR's 2022 report."
"Again, what's lacking is a sense of active advocacy for the CHR's recommendations based on their investigations: more transparency in internal police investigations, full investigation of vigilante-style killings, filing of charges, among others," Iglesias added.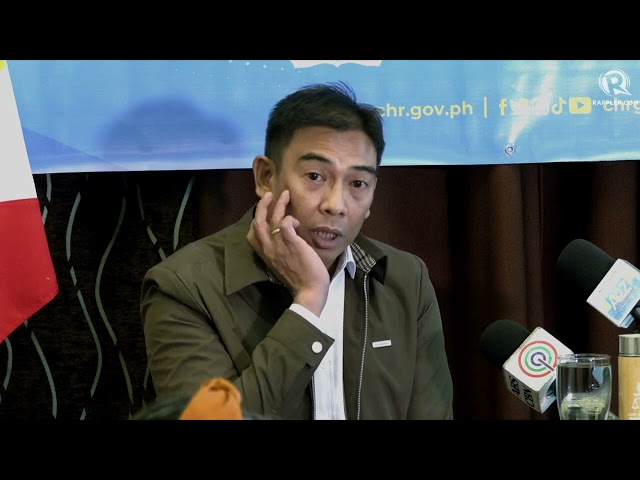 Better engagement on other issues, but until when?
CHR's exclusion from drug war-related matters contrasts with its experience in other issues. 
Chairperson Palpal-latoc said that they are "actively engaging" with other government agencies like the Department of Labor and Employment, Department of Social Welfare and Development, and the Department of the Interior and Local Government, among others.
These engagements include various memoranda of agreement and projects aimed at addressing existing gaps in the Philippines, including the establishment of centers for human rights education, among others.
The commission told Rappler on Tuesday, August 15, that it remains hopeful that "several windows of opportunity" evolve further into concrete involvement in drug war-related investigations. But while there have been preliminary discussions and meetings in the past on this matter, these are yet to be fully implemented.
Things are still at the "exploratory" phase now, but CHR said there is hope that there is willingness to move forward based on its initial engagement with the DOJ.
Political scientist Iglesias, whose research interests include democracy and state violence, urged the current CHR en banc to strengthen its independent role especially with the rising number of killings under Marcos.
"The onus is therefore on the new Marcos Jr.-appointed commission to fully and autonomously exercise the powers granted to the CHR in its role as fiscalizer and monitor of state conduct with respect to civil and political rights," she said.
Marcos closed his first year in office on June 30, 2023 with at least 342 drug-related killings across the Philippines, including victims killed in state operations and by unidentified perpetrators, as monitored by the Dahas project of the University of the Philippines-Diliman's Third World Studies Center.
The death toll has risen to 374 as of August 7, 2023 or less than two months after.
Open to help ICC if needed
Carlos Conde, Human Rights Watch (HRW) Asia senior researcher, said the continued exclusion of CHR shows that accountability and justice for victims of abuses "are not the top concern" of the Marcos administration and the PNP.
"People cannot be faulted [for] thinking that the PNP is hiding something or protecting people within the organization," he told Rappler on Tuesday, August 15. "It bogs the mind why they cannot cooperate with the one remaining government body that can give a measure of accountability for all those killings." 
Marcos has distanced himself from the violence his predecessor Duterte is known for, even stating that the previous administration's "focus on enforcement" resulted in "abuses by certain elements in the government." During his second State of the Nation Address, he said that "the campaign against illegal drugs continues, but it has taken on a new face."
But reality on the ground shows killings continue, and that there has been no accountability for the deaths under Duterte's drug war. Only a few have been convicted in drug war-related killings, including the police involved in the deaths of 17-year-old Kian delos Santos, Carl Angelo Arnaiz, and Reynaldo "Kulot" de Guzman. 
This is precisely why families and other advocates have pinned their hopes on the ICC. In July, the court junked the Philippine government's appeal to block the continued investigation into both killings in Davao City and under the nationwide drug war.
Marcos has said that his administration "will not cooperate with [the ICC] in any way, or form."
Palpal-latoc acknowledged that state cooperation with the ICC is "a decision to be taken by the leadership," but the commission is urging the government to view this as an "opportunity" for Marcos to show his commitment to human rights and accountability.
Iglesias, however, said that the CHR should not leave it at that, and should "urge the present government more strongly, and in no uncertain terms, to cooperate" with the international court.
The ICC is yet to reach out to the CHR in relation to the ongoing investigation, but the commission is ready to perform its duty.
"Kung kami ay hingan ng tulong ng kung sinumang ahensya, handa po ang CHR na makipagtulungan kasi ito naman ay kasama sa mandato namin (If we're asked for any help, CHR is ready to help since it's part of our mandate)," Palpal-latoc said. – Rappler.com