This is AI generated summarization, which may have errors. For context, always refer to the full article.
Social media users swiftly attributed the unfavorable outcomes to Chot Reyes, with some recalling the national team coach's 2022 statement aimed at his critics, 'Judge me in the World Cup,' having negative repercussions for him
MANILA, Philippines – On Sunday night, August 27, the Philippines fell short against Angola, 80-70, in the FIBA World Cup. Prior to this, Gilas Pilipinas also experienced a loss to the Dominican Republic in the opening game on August 25.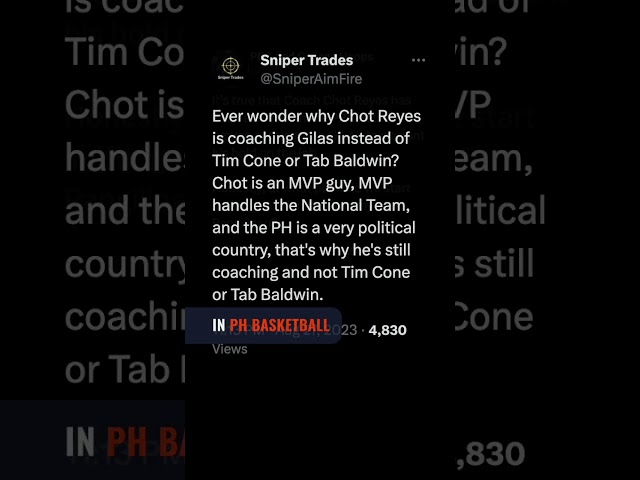 The names of Chot, Kai Sotto, Clarkson, and the hashtag #GilasPilipinas gained traction on X (formerly Twitter) on Monday, August 28, as Filipinos shared their sentiments over the regrettable outcome of the games.
Social media users swiftly attributed the losses to Gilas Pilipinas head coach Chot Reyes, with some recalling his 2022 statement aimed at his critics, "Judge me in the World Cup," generating negative repercussions for him.
Some netizens demanded the resignation of Reyes as head coach, saying his supposed "outdated system" hinders talented Filipino players.
X user @MyNewEmpire2005 claimed "there was no system in place" under Reyes.
X user @DonnyBucketsPH pointed out the alleged constant "designated play" executed by Reyes.
"Just play ball," said @HomerSayson as he advised Reyes to direct his energy towards creating stronger team plays instead of dwelling on grievances.
@mykonos3333 attributed the losses to the coaching staff, especially considering that the national team allegedly comprises players with comparatively superior skills compared to the 2014 lineup.
While acknowledging Reyes dedication to the national team, X user @DadiSkarte said "it's time for a new coaching staff."
X user @Papakeminem threw shade at Reyes as he listed the supposed price of the coach's outfit.
'It's team basketball'
Some netizens voiced disapproval of Reyes' supposed system which appears to overly emphasize Clarkson while disregarding the skills and contributions of other players.
Some users expressed disappointment over Chot's apparent underestimation of Rhenz Abando, believing that he deserves more playing time.
Posting a video of Abando's dunk in Gilas Pilipinas' game against Angola, @bibiyuuuh showed what Reyes allegedly failed to utilize.
Some netizens also pointed out how CJ Perez is supposedly being overlooked or undervalued.
X user @JDaredevil2 believes that Perez "has that game changer component in his DNA," implying that if he had received more playing time, it could have made a significant difference.
Meanwhile, there are also sentiments of disappointment regarding Kai Sotto, with some expressing that he may be able to deliver better in the next game.
@DwigtSchruute even called Sotto "just tall."
On the other hand, there are supporters of Sotto who empathize with him for not being able to showcase his full potential.
X user @noorisie expressed concern that Jordan Clarkson might eventually reconsider his decision to stay in the team due to the system under Chot Reyes.
Rappler Sports' @naveenganglani commended AJ Edu for doing "a tremendous job" in the opener against Dominican Republic, specifically in defending NBA All-Star Karl-Anthony Towns.
Despite being "highly criticized," @konrad55 said Kiefer Ravena kept Gilas Pilipinas "at bay."
Observing the apparent strategy in action, some social media users questioned why Ravena is not granted sufficient playing time.
X user @GabrielTandang praised Dwight Ramos for being adaptable on the court, contributing points regardless of the coaching system in place.
Some supporters also stepped up to defend Ramos as he continues to get criticism despite putting his utmost effort.
'Bring back winning systems'
Some individuals lamented the alleged influence of politics in Philippine basketball.
X user @TalkPBA proposed that while Chot Reyes' alleged coaching inefficiency is evident, Samahang Basketbol ng Pilipinas (SBP) Chairman Emeritus Manny Pangilinan should also take responsibility.
Tab Baldwin also created a stir as Filipinos mourned Gilas Pilipinas' losses. In January 2023, Baldwin stepped down from his post as the national team head coach.
"It's 2023 and we still haven't learned from the sins of the past," said @imJOSHkidding, as he criticized SBP for what he perceives as political maneuvering.
X user @pauldelflores said the "SBP consistently failed to heed" what the national team supposedly needs.
"The day na finire si Coach Tab, sinukuan ko na 'tong Gilas Pilipinas," said @irrelevantfan91.
(I gave up my hopes on Gilas Pilipinas when Coach Tab Baldwin was let go.)
Some social media users observed how Justin Brownlee's absence on the court was greatly felt.
@mrfresh0614 said, "We miss the presence of Justin Brownlee."
They compared Brownlee and Jordan Clarkson's performance as Gilas Pilipinas players. X user @aynmengote said, "Brownlee is a better fit for this team."
A netizen couldn't help but look back at the 2014 Gilas Pilipinas lineup.
Reflecting on the 2014 lineup, X user @beerrttybrates emphasized that what mattered most to them was their heart in playing basketball and representing the country.
Meanwhile, some Filipino fans expressed appreciation for the Philippine team despite losing the two games.
With a 0-2 record, Gilas Pilipinas stands as the sole winless team in Group A. However, there remains a chance for redemption as they face Italy on Tuesday, August 29, at the Araneta Coliseum. – With reports from Allysa Areglo/Rappler.com.
Allysa Areglo is a Cavite State University student pursuing a bachelor's degree in journalism. She is a digital communications intern at Rappler.