The fact that Zamboanga is home to two Olympic medalists – weightlifting champion Hidilyn Diaz and boxing bronze winner Eumir Marcial – is by itself an extraordinary feat for the city
Despite Eumir Felix Marcial's failed quest for the gold, Zamboanga City celebrated the Tokyo Olympics bronze medal that would be brought home by the Zamboangueño boxer.
This city has every reason to celebrate: a Zamboangueña, Hidilyn Diaz of Barangay Mampang, became the first Filipina to win an Olympics gold medal in weightlifting for the country, and on Thursday, August 5, Marcial, another Zamboangueño from Barangay Lunzuran, secured a bronze medal in boxing.
The fact that Zamboanga is home to the two Olympic medalists is by itself an extraordinary feat for the city, officials said.
Mayor Maria Isabelle Climaco-Salazar congratulated Marcial "for bringing pride and honor to Zamboanga and the Philippines."
"Together with Hidilyn, you have shown to the world the resiliency, bravery, and determination of the Zamboangueños to win life," she said.
Zamboanga's city tourism officer, Sarita Hernandez, said Diaz and Marcial gave Zamboanga so much pride and hope, and she was glad the two represented the city and the country in the Olympics.
"I'm proud of him. For me, he is the real champion. He did a good job. The city owes him big time," said Hernandez.
"There are judges who made the decision but for me and my family, Eumir is still the winner – the champion," Marcial's mother Carmelita said after her son settled for a bronze. "Eumir told us that he will fight on."
Marcial was just seven years old when he became interested in boxing.
His father Eulalio was his trainer for his first fight at the Beer na Beer Tournament at Plaza Pershing in downtown Zamboanga. He won.
Having won as champion, Marcial's childhood dream became winning the gold in the Olympics, his mother said.
People in Zamboanga, especially in their village Lunzuran, eagerly awaited his fight on Thursday.
Eumir or Dong to his family juggled time with his informal boxing training and education at Putik Central School and Maria Clara Lobregat National High School in Divisoria for his first two years in secondary education.
"I was apprehensive at first, but when I realized that the children would be wearing headgears even when they were amateurs, and there were medical personnel standing by, I felt a bit relieved with that," Carmelita said.
When Eumir turned 15, he was made to transfer by the Philippine Sports Commission (PSC) to the Pasay City West High School for his final two years in high school as his training became more intense.
Eumir, now 25, is the youngest child of Eulalio, 71, and Carmelita, 62, whose brood includes Eliver (deceased), Elgiber, 37, Eunice, 36, and Eucar, 27.
At 15, he competed in his first international game where he won a gold medal at the AIBA Junior World Boxing Championships in Astana, Kazakhstan.  
Following the footsteps of his idol, Manny Pacquiao, Eumir also chose to join the Army.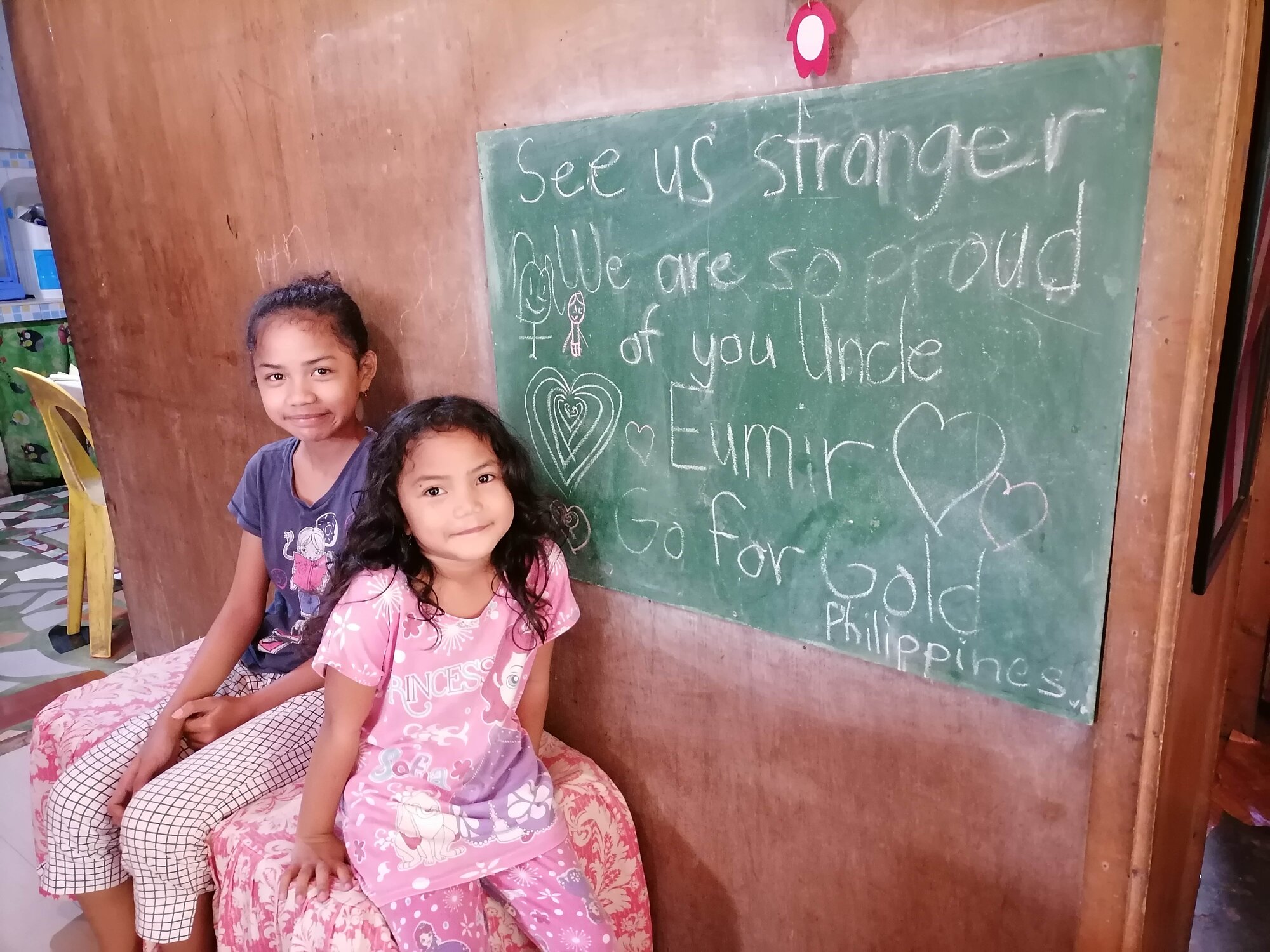 The elder Marcials said Eumir has been so family-oriented that he sent home most of his national team allowance since he was 15.
From the money he sent, his mother opened Eumir Store, a retail store at the crossing of Lunzuran and the highway in the city. It was, she said, the fruit of her son's labor.
Eumir also bought a lot in the village, and slowly had a house built for his family there.
Eunice, his only sister, said it was Eumir who shouldered the expenses when she gave birth to her youngest child in Cavite City.
"Yo ya queda junto con Eumir, mi marido y maga hija y solo hijo na su casa na Cavite. Ta vicia kami el casa cada sale afuera na pais si Eumir especialmente para na su juego afuera como ta representa ele na pais. Bien willing se ele ayuda canamon todo especialmente si para con Mamang y con Papang," she said.
(I lived together with Eumir, my husband, my daughters, and my only son in his house in Cavite. We take care of the house every time Eumir goes out of the country to train and fight," she said.
Even though Eumir fell short in his quest to bring home the gold, his mother Carmelita said, "We are always here, and we love you." – Rappler.com