'If people who want facts leave social media, what happens to the people who stay on social media?' says the Nobel Peace Prize winner and Rappler CEO
MANILA, Philippines – Nobel laureate and Rappler CEO Maria Ressa wants you to stay on Facebook, despite all its problems with disinformation.
In a book signing event organized by the Ortigas Foundation Library on Thursday, February 16, Ressa advised attendees to not quit Facebook, questioning what could become of the social media platform if "good people" left it.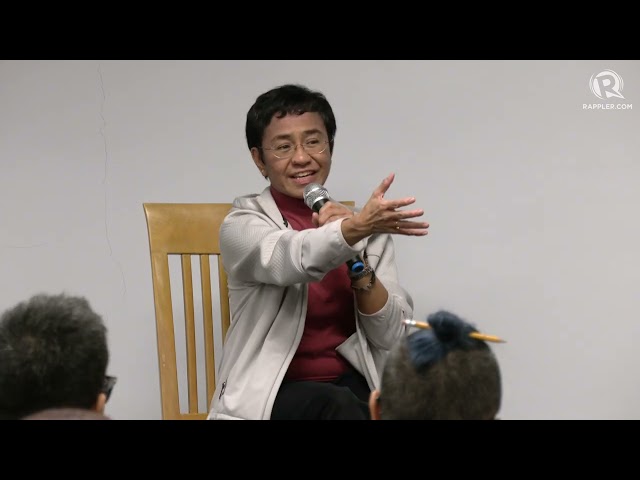 "If good people leave Facebook, what happens to the rest of the people on Facebook? If people who want facts leave social media, what happens to the people who stay on social media? That includes our younger generation…. I'll give you a quick answer – I don't believe you should [quit Facebook]," said Ressa.
The event centered on Ressa's book, How to Stand Up to a Dictator. The main theme of the book is how disinformation, hate, violence, and "toxic sludge" thrive on social media and the information ecosystem.
Ressa said that this is why Rappler has stayed on Facebook despite the overwhelming spread of lies faster than truths.
"Denial doesn't actually change reality, right? People will still – we will still be polarized and radicalized, you just won't know. And for us, part of knowledge is really critically important," she said.
Ressa said that "traditional journalists" would be advised to not respond to attacks. But the state of the information ecosystem requires a response now, because "a lie told a million times becomes a fact – that's what social media does."
Noemi Pamintuan Jara, among those who attended the Thursday event, said that she is still on Facebook, but is more mindful of what she posts nowadays.
"I'm not really into posting anymore, realizing how much they mine your data. So I'm now more mindful of what I post, and especially with what Maria Ressa said, I'll post something positive because…if you leave the space, then no good people will be left here," she said after the forum.
Ria, another attendee who asked that her surname be withheld, also highlighted the importance of keeping up real-life connections to spread truth. She spoke from the context of disinformation during the 2022 elections, which saw then-vice president and presidential candidate Leni Robredo a hot target of disinformation online.
"In the elections, I had around 90 plus, almost 100 plus security guards and public service people on my phone and I would text them and encourage conversation every week. Those conversations actually stopped after elections. It's so difficult also to keep continuing," she said.
Ressa launched How to Stand Up to a Dictator in the Philippines on December 10, 2022. The book gives readers a glimpse into Ressa's personal thoughts and the tough questions she confronted as Rappler faced harassment and numerous legal attacks from the Rodrigo Duterte administration. – Rappler.com