We put a spotlight on the humble and filling Holy Week staple
During Holy Week, one of Cebu's iconic dishes becomes the star of the show. Nothing packs memories of lazy Holy Week afternoons more than binignit.
Binignit is a thick, sweet stew of assorted fruits and root crops in coconut milk with native tapioca pearls. Much like the Manila dish ginataan, this dish is served best as an afternoon snack or a dinner dessert.
Back in April 2020, Cebuanos made headlines for violating social distancing protocols at the Carbon Public Market in the middle of quarantine lockdowns. It was later referred to as the "binignit incident," in reference to the dish which – either seriously or in jest – triggered shoppers to storm the market.
This year, the Cebu City government has made bigger preparations in order to prevent a repeat, including scheduled market visits, and stricter implementation of social distancing measures.
Louelle E. Alix, a heritage worker and food historian, told Rappler in an interview on Tuesday, March 30 that making binignit has always been a tradition of Cebu's most devoted Church followers.
Cebuano devotees, like most Catholics, make sure to abstain from meat every Holy Week – a practice that's been carried on across different generations.
According to Alix, during the Spanish occupation, Cebuano farmers developed a way to let them practice their faith while still being full enough to work through a long day of fasting.
"They developed this dish called binignit that would fill them up, and still allow them to abstain from meat. It is full of carbohydrates that would ensure they would be full the whole day," she said.
The ingredients of the binignit are mostly root crops such as ube (mashed and sweetened purple yam), kamote (sweet potatoes), and gabi (taro). Even before the Spanish came, root crops were a key part of the Cebuanos' daily meals.
"In the past, one cannot buy fresh fish, because all of the fishermen would be resting. There is this superstition that if you go out to the sea, you would get into an accident," she said, explaining that meat would often be unavailable in the markets themselves.
While that may no longer be the case, Cebuanos, even those who aren't religious, still follow the binignit tradition by turning it into a family past time.
To this day, said Alix, parents bring their children along in search of the "triumvirate of binignit" – banana, taro, and sweet potatoes. Preps are usually done days before Holy Week.
Those living in more rural areas usually have their own banana trees and grow their own kamote (sweet potato), making the dish even more affordable.
It's also easy to prepare. "It doesn't take a cooking degree to make binignit," Alix said.
What makes the binignit even more unique is the "landang," or Cebu's version of tapioca. This native tapioca is made from the flowers inside the trunk of the buri tree.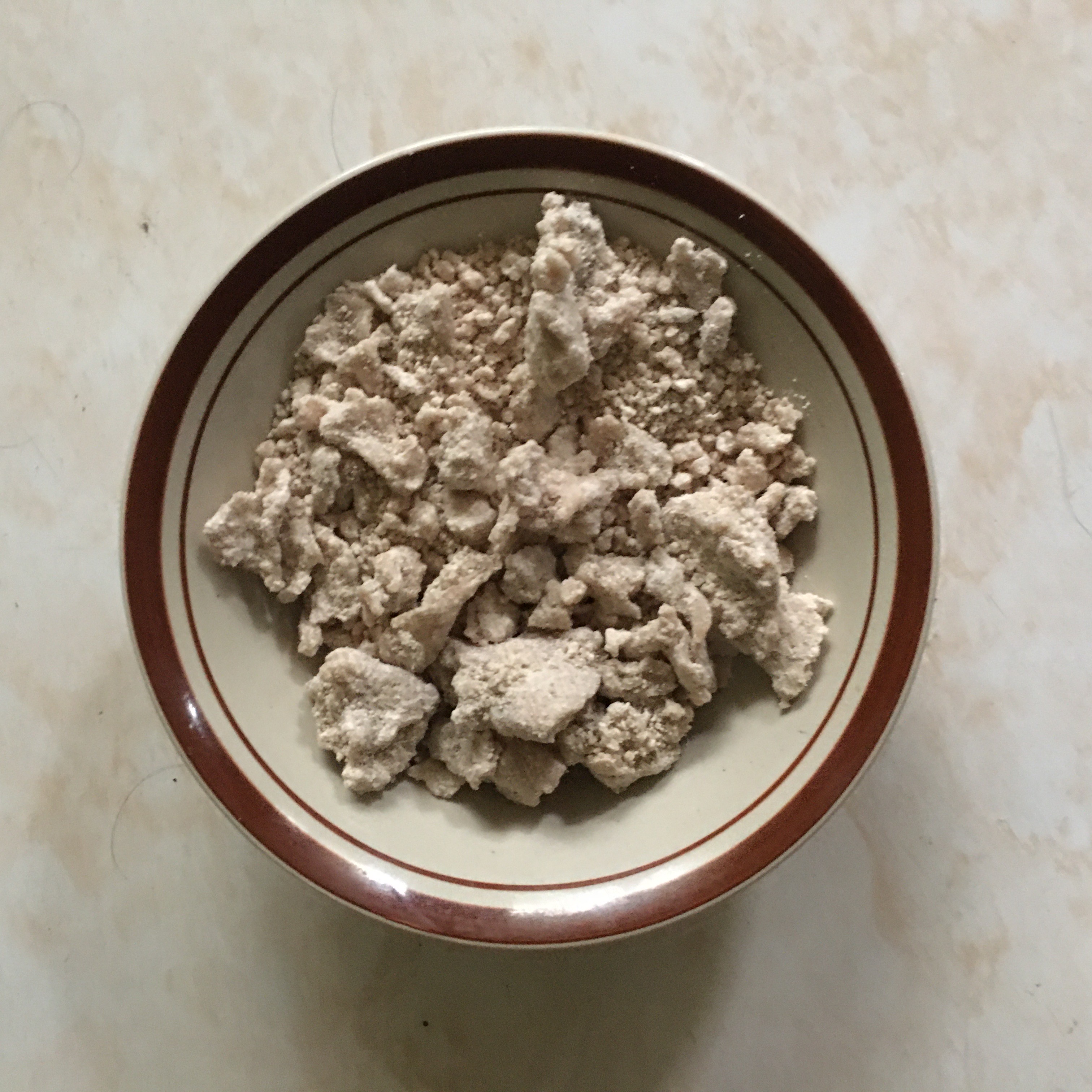 "When a buri tree dies after 80 to 100 years, farmers would chop down the tree then extract the carbohydrates from the blooming flowers inside the trunk. Afterward, it is chopped into white pieces and dried in the sun," Alix said.
Once dried, it is hand crushed with a lusong and alho – a wooden mortar and pestle – and turned into a powder. The powder, when mixed with water, forms the landang.
Of course, landang is just the last special bit to be added in the process of making binignit. Here's a recipe, in case you want to make it yourself:
Ingredients:
2 cups of diced purple yam (ube)
1 cup of diced sweet potatoes (kamote)
1 cup of diced taro roots (gabi)
1 cup granulated white sugar
4 cups coconut milk
2 cups water
2 cups of diced banana (saging na saba)
2 cups of landang
Glutinous rice balls (bilo-bilo)
Optional: 1 cup of sliced ripe jackfruit (langka)
Instructions:
Boil 2 cups of water in a large cooking pot and then add 1¾ cups of coconut milk. Wait until it re-boils.
Add in sweet potatoes, bananas, and taro then simmer for at least 8 minutes.
Add in 2¼ cup of coconut milk, a cup of sugar and some glutinous rice balls. Simmer again for another 8 minutes.
Add your diced banana and/or diced jackfruit, then cook for another 2 minutes.
Add the landang gradually and stir. Simmer for a minute, then turn off the heat.
Allow to cool, transfer onto a container or a serving dish and serve either hot or cold.
– Rappler.com