'This is the best that they can offer, some form of entertainment, some form of suspense,' says veteran journalist John Nery
'In the Running' is Rappler's daily wrap of the filing of candidacies for the 2022 elections, with senior reporter Pia Ranada, regional coordinator Inday Espina-Varona, Rappler columnist and editorial consultant John Nery, and reporters in the field. This article is based on the show's October 8 episode about Day 8 of COC filing.
If Senator Bong Go suddenly running for vice president last Saturday turned newsrooms upside down, there weren't enough cheat notes to prepare journalists for what happened on Day 8 of the COC filing – a wild Bato Dela Rosa coming out of nowhere.
As suspense grew on whether presidential daughter Davao City Mayor Sara Duterte would run for the post, it was instead former police chief now senator Ronald Dela Rosa who filed his certificate of candidacy (COC) as standard bearer for ruling party PDP-Laban.
Is Dela Rosa just a placeholder for Sara, or for whoever the PDP-Laban would be able to convince by the end of the substitution period in November? A dramatic substitution was also what happened with President Rodrigo Duterte in 2016.
The rumors were also the same – Duterte supposedly aboard a chopper that landed in Manila in 2015 to file, and Sara allegedly at the Manila hotel earlier.
"Is this 2016 all over again? But the problem is we've seen this all before, so what's left is just drama," said veteran journalist John Nery on the last episode of In The Running to cap the weeklong filing period.
"In other words, for Duterte and his administration, drama is their only platform. This is it, this is the best that they can offer, some form of entertainment, some form of suspense, even their own supporters are in suspense," said Nery.
It's quite unusual too, said senior reporter Bea Cupin, how Duterte's PDP-Laban is in such disarray, with their standard bearer under a cloud of doubt of being just a placeholder.
Even the reveal of the senatorial slate was bizarre, with Duterte himself going to the tent to raise the hand of each candidate, with the drab Duterte fist to boot, ruffling feathers of other camps who complained of accommodation to the president when all others had strictly complied with rigid protocols.
"They are the ruling party, you would expect them to have a complete lineup weeks ahead, what we saw instead was they released an initial list during a convention but one by one, like Lucy Torres Gomez eventually deciding she won't run for senator, and this week we saw new ones, among them Robin Padilla, Rey Langit just this week, it's strange because in a way they just unveiled earlier the Duterte-endorsed slate," said Cupin.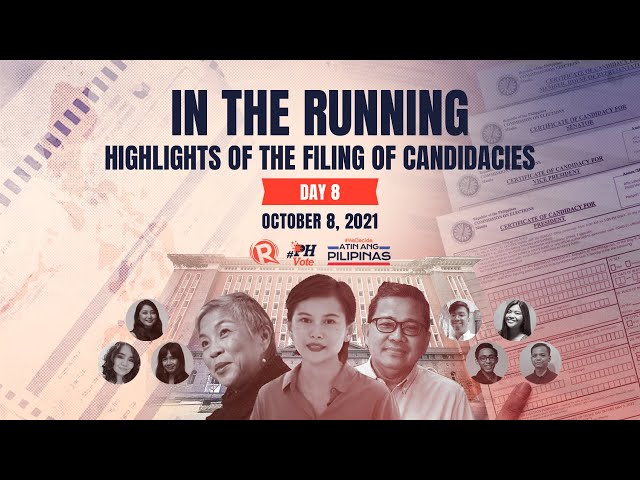 It has begun
But there's no shortage of drama from the other side, because immediately after Senator Francis Pangilinan filed his COC for vice president and faced the press with Vice President Leni Robredo – trouble brewed.
Robredo had told reporters on the sidelines of the press conference that Mayor Isko Moreno's non-categorical stance on the Marcos dictatorship was among the reasons why she was pushed to run. Robredo had been a reluctant candidate ever since, saying she preferred to support a unified candidate, which could have been Moreno had the unification talks succeeded.
How did Moreno react? He called Robredo "fake leader with fake color."
"Unexpected that the statement would be that scathing at this early stage when a few months ago, they were distributing vaccines together, Leni and Isko. It just goes to show [how] politics is here," said reporter Pia Ranada.
"Kind of a low EQ [emotional quotient], is that the way to respond? When national attention is on your rival, I thought it was striking," said Nery.
Ranada said it was apparently the #WithdrawIsko trending topic that irked the Manila mayor.
"He felt that he was being ganged upon, that's what he said earlier, that he had the right to run, respect him for his intentions," said Ranada.
And that's the end of the COC filing period, but just a foretaste of what's to come in the crazy whirlwind that is the Philippine elections. – Rappler.com
Watch 'In the Running' at 7 pm from October 1 to 8, on Rappler's YouTube, Facebook, and Twitter channels. The recorded version of the show is available right after its live airing.
Watch previous In the Running episodes: