Rappler's reporters and resident election analyst walk you through the highlights of day 7 of COC filing, where all eyes were on Vice President Leni Robredo and old names try to stake new claims
'In the Running' is Rappler's daily wrap of the filing of candidacies for the 2022 elections, with senior reporter Pia Ranada, regional coordinator Inday Espina-Varona, Rappler columnist and editorial consultant John Nery, and reporters in the field. This article is based on the show's October 6 episode about Day 7 of COC filing.
On the penultimate day of filing of certificates of candidacy (COC) on Thursday, October 7, anticipation was in the air not only at the Commission on Election's (Comelec) filing venue in Sofitel Tent, but in New Manila, Quezon City, where several gathered to be in the center of today's action.
Finally, political observers noted, Vice President Leni Robredo announced she would run as president in the 2022 elections. It was a decision not only her rivals, but also allies, waited to hear, after Robredo took months contemplating her plans for the coming election year.
"Finally is really a word that's been used a lot today. It was a long and winding discernment process for Vice President Leni Robredo…. And she made a lot of her supporters happy with this announcement," Rappler reporter Mara Cepeda said. Cepeda has covered Robredo's stint as vice president and will be covering the opposition figure in the upcoming election. 
So, what finally pushed Robredo to take a shot at higher office in 2022?
After all, the odds appear to be stacked against Robredo, Rappler's Malacañang reporter Pia Ranada pointed out. Not only was Robredo a reluctant candidate plagued by low survey numbers, she is the subject of an intense vilification campaign by President Rodrigo Duterte himself and his followers.
Robredo gave no indication of what might have been the final straw in her decision, but two conditions she had cited to convince her to run have been fulfilled: the Vice President was endorsed by the 1Sambayan opposition coalition and former senator Ferdinand "Bongbong" Marcos Jr, son of ousted dictator Ferdinand Marcos announced that he would also take a shot at the presidency.
The recent death of the late former president Benigno "Noynoy" Aquino III could have also been a deciding factor for Robredo. After his death in June 2021, many had paid tribute to his legacy of "good, decent" governance.
"VP Leni felt something, may tawag talaga sa kanya (there was really something calling her)…. As a reporter covering her, it gave me the idea that probably the death of PNoy, who is a close ally of VP, who was quite instrumental in pushing to run for for vice president in 2016, that must have been something that pushed the VP," Cepeda said.
Watch the October 7 episode of In the Running below.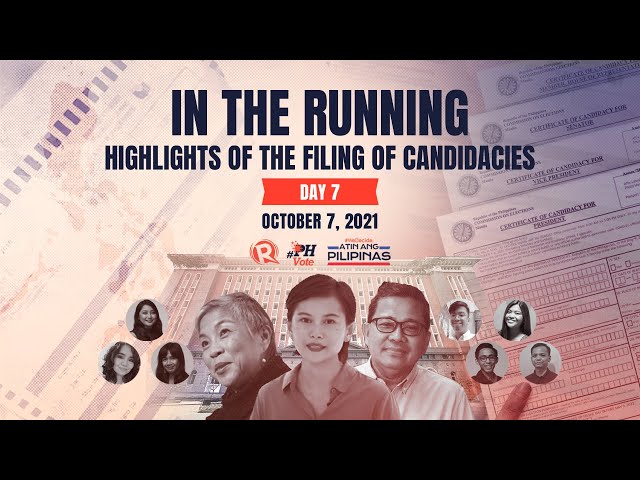 'Listening speech'
Despite this, what Robredo has made clear is her why – the reasons she decided to gun for the position of president. During her speech, Robredo used the analogy of domestic abuse – something Cepeda said was an indication of how she would be running her campaign.
"It's a narrative that follows that…Filipinos today are like victims of domestic abuse. They might not realize that they can get out of that abusive situation. It's the trap of violence and she's asking Filipinos to acknowledge you are being abused and to take that leap of faith with her because she will help to end that abuse," Cepeda said.
Rappler editorial consultant John Nery described Robredo's address today as a "listening speech" and one only she could have delivered among presidential aspirants so far. For every paragraph in Robredo's speech, the vice president responded to the series of challenges thrown against her.
"She was doing all the talking, but she was telling us that 'I'm listening to you," Nery said.
It's also a "lesson in empathy," said veteran journalist and Rappler regional head Inday Espina–Varona. One recurring message of Robredo, Varona noted, was to reach out and see where others are coming from.
"Even as she tries to build a unified opposition, dala dala niya pa rin ito (these are things she will carry). These are things that are at the core of her values," Varona said.
A pink paradox, rewind to 1992
Also hard to miss was the color pink, and the absence of the Liberal Party's (LP) trademark yellow. The change of color is a noticeable strategy, Cepeda noted, and one that showed an admission from Robredo and her allies that LP's brand of "disente (decent) politics" is broken.
"If VP Leni wants to win in 2022 she will have to distance herself from that. But I think it's also a sacrifice on the part of those who are loyal in the Liberal Party [because] who will admit that they are going to be a liability for their candidate?" Cepeda said.
One thing Robredo has continued to push for is a united opposition to defeat the incumbent administration in 2022. It's worth noting that Robredo chose to run as an independent candidate in the upcoming national polls, but Cepeda pointed out that many people in her campaign are still LP stalwarts.
"It's a paradox. They are trying to find a balance," Cepeda said. Varona likewise added, "They need to represent the opposition but they need to appeal to the greater constituency."
With Robredo now decided, at this stage, the 2022 Philippine presidential race is looking a lot like 1992, Nery said.
In that election cycle, seven candidates vied for the presidency, including former president Fidel Ramos, former senate president Jovito Salonga, former speaker Ramon Mitra, former senator Miriam Defensor-Santiago, former vice president Salvador Laurel, former ambassador Eduardo "Danding" Cojuangco Jr., and former first lady Imelda Marcos.
"At this stage it looks like its 1992 all over again. We are looking at a tight race…. As things stand, in between snapshots that are the election surveys, you can sense there is a movement…You will have four of five relatively equal candidacies maybe by December," Nery said.
Hopefully, we've matured as voters in the years since then, not only in how votes are cast but in how we engage one another, Varona said. "I hope we've all learned our lessons from those past times."
Regaining a place in history
Throwbacks are also abundant for Senate hopefuls. Several potential candidates show efforts of politicians to regain their place in the history of Philippine politics.
Former vice president Jejomar Binay is once again vying for public office by "sticking to what he knows best," Cepeda said as Binay cited his experience in government over the past 30 years. Binay lost his presidential run most recently in 2016.
Veteran human rights lawyers Chel Diokno and Neri Colmenares also filed their COCs on Thursday, as both seek to redeem their losses in the 2019 midterm elections.
Ex-House speaker Alan Peter Cayetano is seeking a Senate comeback after ditching a presidential bid, while former defense secretary and defeated 2010 presidential candidate Gilbert "Gibo" Teodoro Jr. attempts a Senate run a decade since he held a government post.
In the local races, competition heats up as Pasig Vice Mayor Iyo Caruncho Bernardo wants to take on Pasig Mayor Vico Sotto, who earlier filed his COC to run as mayor again in 2022. Quezon City also sees congressman Mike Defensor challenging Joy Belmonte's reelctionist bid.
In Cebu City, a political showdown looms as Margot Osmeña seeks to challenge the Duterte-backed Mike Rama for the mayoralty. – Rappler.com
Watch 'In the Running' at 7 pm from October 1 to 8, on Rappler's YouTube, Facebook, and Twitter channels. The recorded version of the show is available right after its live airing.
Watch previous In the Running episodes: