'Truth and light prevailed today,' says former vice president Leni Robredo on the court decision that cleared Rappler's Maria Ressa of tax evasion
MANILA, Philippines – A number of current and former government officials known for public interest advocacies welcomed the Court of Tax Appeals' (CTA) ruling that cleared Nobel Peace Prize laureate Maria Ressa and Rappler Holdings Corporation (RHC) of tax evasion charges that hounded her and the company since 2018.
In a tweet, former vice president Leni Robredo expressed hopes for more legal victories for the veteran journalist and the long-embattled newsroom.
"Truth and light prevailed today," Robredo wrote on Wednesday, January 18.
Senator Risa Hontiveros shared a similar sentiment, adding that the crackdown on Rappler "only wastes government funds."
"I hope that the other charges against Maria Ressa and Rappler will soon be similarly dropped, as these were only intended to silence and intimidate members of the media from reporting on and speaking against the excesses of the previous administration, particularly on the bloody, abusive and failed war on drugs," Hontiveros, deputy minority floor leader in the Senate, said.
Former Quezon City 6th District Representative Kit Belmonte also bared his elation on social media after learning the news of Ressa's acquittal.
"Konti na lang (only a few more cases left)! Congratulations, Maria Ressa!" he wrote on Twitter.
Personalities from the militant Makabayan bloc asserted that the legal challenge faced by Ressa and her newsroom were bogus in the first place.
"We know that the case filed by the Duterte administration was a harassment suit, similar to the trumped-up charges filed against activists and members of the opposition," House deputy minority leader France Castro of ACT Teachers said in a statement.
"Let this serve as a reminder that dictatorships will never succeed. We must not let our guard down as fascists who are intolerant of dissent are again occupying key positions in the Marcos Jr. administration, itching to ram their kind of thinking on the populace," former congressman Neri Colmenares, who still chairs Bayan Muna party, added.
The tax appellate court, in its decision, said the prosecution failed to prove that Ressa and RHC were guilty beyond reasonable doubt of tax evasion when it raised capital through its partnership with foreign investors North Base Media (NBM) and Omidyar Network (ON). The charges were filed by the Duterte administration.
Reacting to the CTA ruling, Ressa said: "Today, facts win, truth wins, justice wins."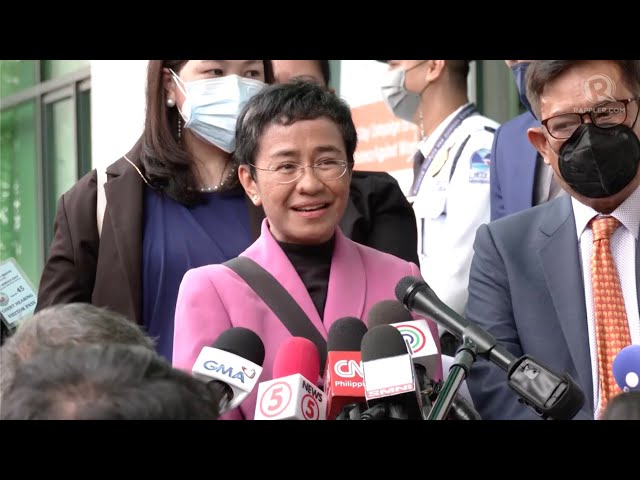 There are still pending court cases against Ressa: the appeal of Ressa and former researcher Reynaldo Santos Jr. in their conviction for cyber libel pending at the Supreme Court, the lone tax case at the Pasig City Regional Trial Court, and the appeal on the closure of Rappler pending at the Court of Appeals. – Rappler.com