This is AI generated summarization, which may have errors. For context, always refer to the full article.
For the second straight SEA Games, rising weightlifting star Vanessa Sarno rules the women's 71kg class in record-breaking fashion
PHNOM PENH, Cambodia – Vanessa Sarno makes weightlifting look like child's play.
It's probably because that's how it started for the 19-year-old, who captured a second straight gold medal in the Southeast Asian Games after defending her women's 71kg crown on Monday, May 15, with relative ease.
"My friends and I did weightlifting because we didn't have anything to do after school," said Sarno.
"Weightlifting was just like a game to us before. I never thought that I'd be able to reach this point, that I'd be able to participate in these competitions."
That childlike approach has remained throughout the years as Sarno goes into action all glammed up and flashing a bright smile.
But Sarno didn't come here to just play.
The Boholana demolished the four-woman field in this SEA Games and recorded a total lift of 225kg – nearly 20kg more than the 208kg that silver medalist Thipwara Chontavin of Thailand accomplished.
Erasing her own SEA Games record in snatch with 105kg lift, Sarno could have padded her lead without breaking a sweat but settled for a 120kg clean and jerk on her first attempt after feeling tightness on her knees.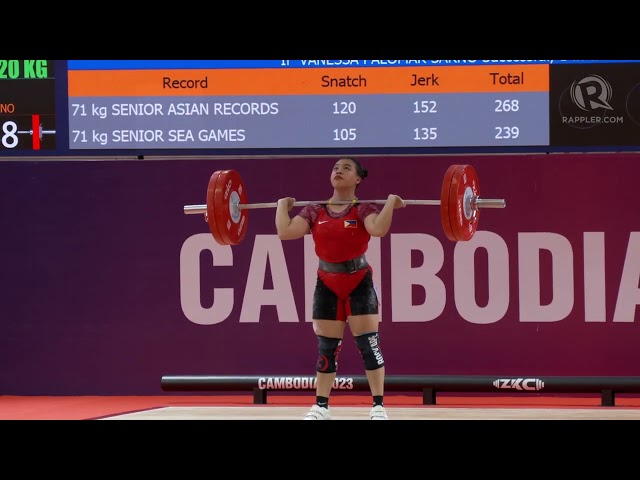 In the end, the only opponent Sarno needed to overcome was herself.
"Every competition, I don't compare myself to other athletes. I just beat me. It's just me versus me," said Sarno. "Every game, I just enjoy performing on stage."
With a successful SEA Games title defense now in the books, Sarno – who also bagged silver in the recent Asian championships – eyes the Paris Games as she looks to follow in the footsteps of Olympic champion Hidilyn Diaz.
"Ate Hidilyn Diaz is really my inspiration, especially in the Olympics. Winning an Olympic medal, I really don't care if it's gold, whatever color it may be, but I just want to win in the Olympics." – Rappler.com