This is AI generated summarization, which may have errors. For context, always refer to the full article.
The hijackers also abuse Zoom's sound features, blaring loud music to drown out the speaker's voice, and hurling degrading phrases
Internet trolls hijacked a forum on feminism on Saturday, October 2, drawing penises, using obscene language, and flashing an unsolicited image of a nude man – a grotesque demonstration of why safe spaces for women remain an urgent concern.
The attack took place during the online forum, What Women Want: Laban Juana. The event was a launch for What Women Want (WWW), a grievance system for misogyny and sexual harassment cases in the University of San Carlos (USC) in Cebu City.
The launch, live streamed through Facebook and viewed by over a thousand users, went smoothly for two hours. Two resource speakers discussed feminist issues and Vice President Leni Robredo gave a message as well.
It wasn't until the solidarity message towards the end that the trolls attacked.
Hijacked safe space
The day had started out exciting for Celine Lagundi, chairwoman of the group Gabriela Youth – USC (GY-USC).

She traveled 17 kilometers from Liloan town to Talamban, a barangay in Cebu City, roughly an hour-long ride, to coordinate the shared speech with her general secretary Hannah Cartagena.
When it came time for her to speak, the screen gradually filled with scribbles in red. It didn't take long for her and the audience to realize that these were lewd drawings of phallic symbols, defacing the presentation that showcased Lagundi's name.
"It came across as 'we don't want to listen to you.' It was very disempowering," said Lagundi who wasn't even halfway through her speech when the harassment occurred. A jumble of emotions coursed through her: confusion, shock, humiliation, and trauma.
The hijackers also abused Zoom's sound features, blaring loud music to drown out Lagundi's speech and hurling degrading phrases like "bitch", "kiss my ass", and "suck my dick." The host, Mariel Dumaraos, was forced to end the webinar when the hijackers flashed a photo of a naked man on screen.
Turning to Cartagena, Lagundi's immediate response was "why does this always happen to me?"
It was not Lagundi's first experience with harassment.

She's faced misogynistic and sexist attacks all throughout her university life, furthering the need for initiatives like WWW that promote safe spaces for women in schools.
"It's not new, but it shouldn't be the norm. That's the reason why it doesn't faze me and it doesn't scare me. I was horrified, sure, but wala siya'y nabuhat. (He didn't change anything.) I would still be org chairperson, I would still fight for women's rights… Our struggle and oppression, we live through it."
The organizers went live again a few minutes later. Lagundi and Cartagena were able to finish their speech strongly, aptly touching on online sexual abuse as well.
"What a way to get the message of What Women Want across than a live harassment of the chairperson of the only militant feminist youth collective in the University of San Carlos," Lagundi remarked, saying she's proud of the WWW initiative despite the hijacking.
Victim-blaming narratives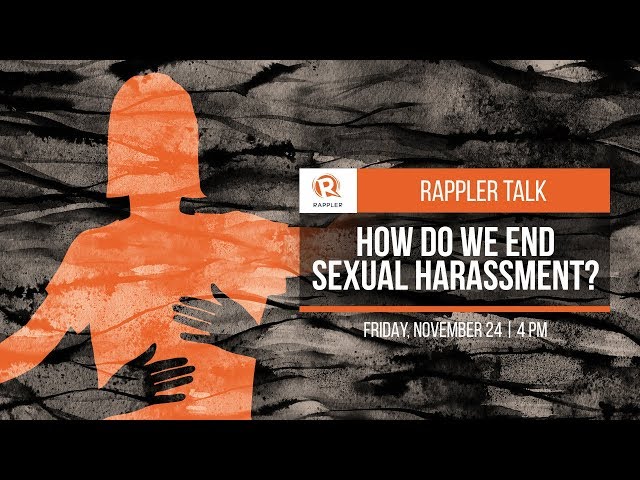 The hijackers perverted the launch event that took the organizers a month to prepare for. WWW was set to launch in early August but was pushed back to fine-tune plans.
Instead of condemning the attack, some netizens lambasted the organizers, victims themselves, for not being careful enough and not having more security measures in place.
One netizen criticized them for not disabling public annotation. Another questioned why the host didn't remove the trolls from the room or remove their sharing capabilities.
"I was shaking the entire time and I cried because I felt violated," Mariel, who is also the proponent of WWW said. Her team attempted to remove the trolls from the private room, but it quickly grew out of hand when they multiplied in number.
As a security measure, the Zoom link was only accessible to people who signed up through a registration form. The organizers understandably admitted people thinking they were students and supporters. As it turned out, the Zoom link was compromised by anonymous users who shared it in Twitter, according to student publication Today's Carolinian.
"None of us wanted that to happen… It was such a traumatic experience for us, too, and it's disheartening to see people point fingers at us. I just hope people stop victim-blaming and redirect their anger sa trolls," Mariel said.
Lagundi also called out the accusations, saying this is akin to what happens with offline harassment when people criticize the victim for not wearing conservative clothes or not being more careful.
"It's so strange that people have the audacity to blame me or blame the organizers. The rage should be directed towards the perpetrators," Lagundi voiced.
She instead called for collective healing. Seeing a solidarity message from the USC Supreme Student Council warmed her heart, and countless people expressed their anger towards the perpetrators and support for her following the hijacking.
"I think that's what victims of sexual harassment need: collective healing."
Not isolated
The hijacking of the WWW launch is far from an isolated incident. As Mariel cited in her orientation speech, 3 in 5 Filipino women have experienced sexual harassment at least once in homes, streets, and schools.
Katrina Mentes, a legislative researcher at the House of Representatives under Gabriela Women's Partylist and also WWW resource speaker, pointed out in her talk that rape jokes and misogynist remarks are normalized by President Rodrigo Duterte.
Duterte himself joked about an Australian missionary, saying that the mayor should have raped her first because she looked like a beautiful American actress. He also referred to a largely female audience as "puta" and "crazy women," a chilling parallel to what occurred during the hijacking.
Asked whether she would press charges, Lagundi said she probably wouldn't because of the justice system, and the grueling process that would affect her mental wellbeing.
"I have an understanding of how the justice system works. How it's so broken. I've had personal experience of filing, attempting to file charges, and nothing happens because harassment and gender discrimination is systemic."
Mariel herself is no stranger to the issue, which is why she proposed the WWW grievance system in the first place.
"I grew up seeing my mom being domestically violated at home. I also experienced being sexually harassed…I don't want to live a life seeing women, including myself, being silenced by the abuser. So in ways that I can, I will continue to banner the promotion and protection of women's rights." – Rappler.com