This is AI generated summarization, which may have errors. For context, always refer to the full article.
'Reading their social media posts, it is difficult to ascertain if these women are government officials or presidents of a local chapter of the Digong Fans Club'
The other night, in a public address where President Rodrigo Duterte was expected to tackle urgent issues on vaccination rollout and quarantine restrictions, he called Senator Leila de Lima a bitch who is jealous of him for winning the presidency, and made vulgar innuendos about where Vice President Leni Robredo sleeps.
Same speech, different night – once again, the public had to witness Duterte's hostile sexism.
Last month, in celebration of International Women's Month, Duterte's "benevolent" sexism came out in his message calling for "empowering every Filipina to break not only the barriers that have long hindered them from reaching their full potential, but also the backward mindset that fueled a culture of gender oppression and inequality." The message – like Duterte's public address last Monday – was met with a range of scorn, skepticism, and outrage.
Who are the Filipino women that President Duterte claims he wants to empower? Certainly not the female rebels who he said should be shot in their vagina. Not Leila de Lima who is still the target of an orchestrated slut-shaming campaign even though she has been in detention for the last 4 years. Not the Vice President who he insults and threatens whenever public opinion sways in her favor, because she stands out as one of the few government officials with a COVID-19 action plan. Not the mothers, wives, and sisters whose loved ones have been killed in a senseless, relentless massacre veiled as a drug war and an anti-insurgency campaign. And most certainly not his longtime kasambahay who he brazenly tried to grope.
Five years into this administration, the public does not need to be reminded of the countless women, Filipino and otherwise, that the President and his posse have insulted, humiliated, and vilified. What we do need to be reminded of are the women who defend Duterte's sexism because they benefit from it.
There is the entertainer who has been appointed to three government positions under the Duterte government. First as a member of the Movie and Television Review and Classification Board, then Presidential Communications Assistant Secretary and Deputy Executive Director V of the Overseas Workers Welfare Administration. Her pro-Duterte Facebook page with millions of followers sums up her qualifications for her government position.
There is also the physician who refers to the President as "Digong, my lab" and was appointed as assistant secretary for the Department of Social Welfare and Development. She has been accused of using her current position as Undersecretary for the Presidential Communications Operations Office to red-tag Makabayan bloc lawmakers.
Reading their social media posts, it is difficult to ascertain if these women are government officials or presidents of a local chapter of the Digong Fans Club. Ambivalent sexism: patronizing and protecting Duterte's sexism is both hostile and benevolent.
In a 2019 event honoring outstanding women in law enforcement, Duterte again displayed his hostile sexism when he called women bitches. "Puta (Bitch), you know, you women, you are depriving me of my freedom of expression…. You criticize every sentence or word I say, but that is my freedom to express myself." He proceeded to insult women further by calling them "gaga" (stupid) and "rejects of priests."
At the same event, Duterte turned to benevolent sexism when he said he loves women. "I love women…. that's why you see I have two wives. That means I like women."
Social psychologists Peter Glick and Susan Fiske coined the term "ambivalent sexism" to describe the way that both hostile sexism or negative reactions towards women who challenge men's power complements benevolent sexism, which positions women as weak and need to be protected by men.
Both hostile and benevolent sexism are dangerous because they reinforce women as inferior to men but just differ in the way that they do it. Patmei Ruivivar, Duterte's former chief of staff, quoted in this Rappler article, inadvertently corroborated Duterte's ambivalent sexism when she said, "He's (Duterte) not hostile. It's not that he hates women, no. But he tends to be patronizing towards women – protecting them, worshipping them, putting them [on] a pedestal. But he respects women. He would never abuse them or take advantage of them."
For Duterte, women are worthy of compliments and government positions that they are not qualified for if they are agreeable and obedient. His vitriol, categorized as debasing women for their looks, sexuality, and personal life choices, is reserved for women who step outside the bounds of compliant adoration. French artist Emma simplifies ambivalent sexism and the love-hate regard for women in her feminist comic strip here: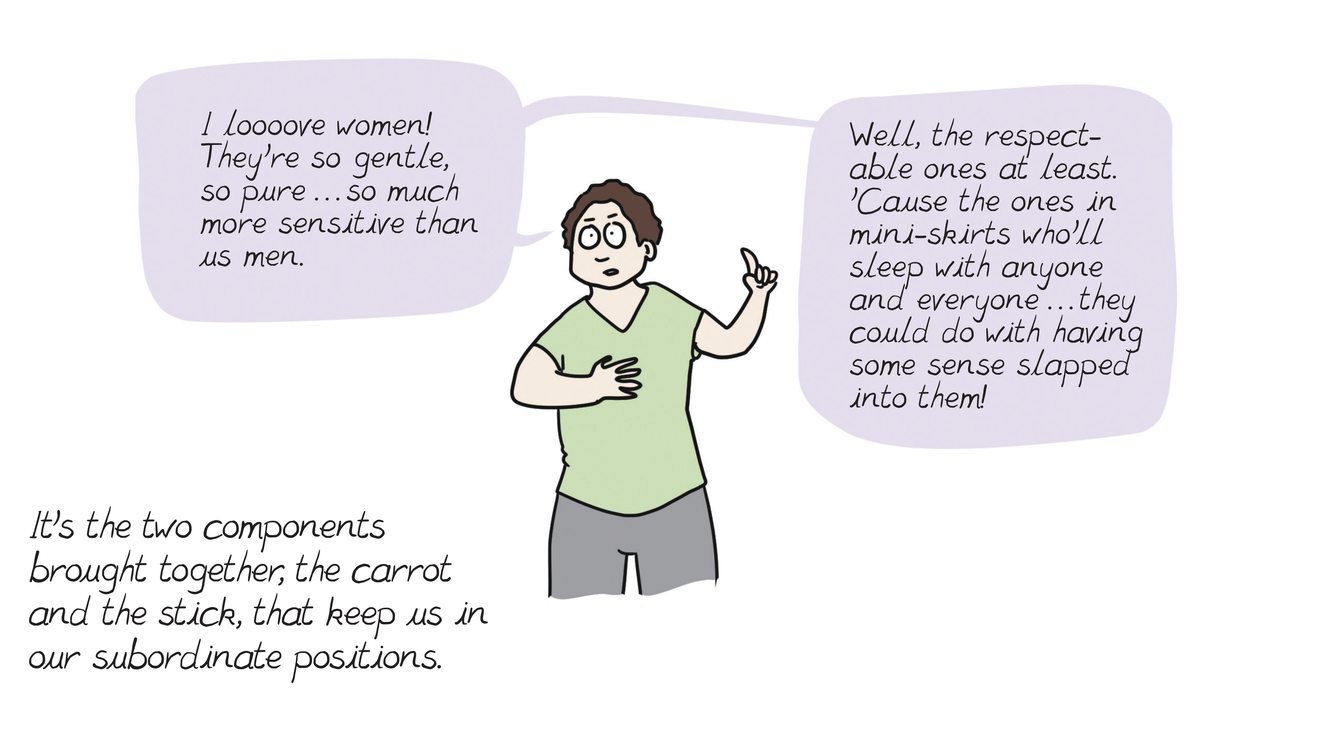 Benefiting from sexism and patronage politics
By now, it is difficult to comprehend how any woman – or person, for that matter – could possibly justify Duterte's sexism. But we only need to look at certain women in government, like the entertainer and the physician, to understand that some women defend Duterte's sexism to curry favor and benefit from his patronage politics.
In a video interview from 2017, female government officials defended Duterte with various baseless justifications. Marie Banaag, PCOO assistant secretary, normalized victim blaming when she said catcalling is "relative," meaning it would be up to the person if they were going to be offended by it. Banaag asked women to have a forgiving heart.
DILG USec Emily Padilla excused Duterte for making vulgar comments because he is not married.
And Justice Assistant Secretary Aimee Neri said his utterances "could have been misinterpreted words" and insisted that Duterte has a caring heart. She cited the special council for Violence Against Women and Children in Davao as evidence of his support for gender equality, without acknowledging that the passage of such policies is the product of years of lobbying, advocacy, and social mobilization by women's groups.
A study shows that some women support patriarchy because they feel supported by the patriarchy, rather than restricted by it.
In sexist environments where women are punished for challenging men's dominance, some women thrive and benefit because they defend sexism, normalize misogyny, and uphold the patriarchy. These women do not want female empowerment and equality or gender fairness – that would only expose their own incompetence. – Rappler.com
Ana P. Santos is an award-winning journalist reporting on sexuality, sexual health, and female migrant labor. She is currently pursuing a postgraduate degree in Gender (Sexuality) at the London School of Economics and Political Science as a Chevening scholar.