This is AI generated summarization, which may have errors. For context, always refer to the full article.
In Negros Occidental, a key opposition province against the late dictator Ferdinand Marcos, sugarworkers, tricycle and pedicab drivers are early volunteers for the Leni Robredo campaign
Elizabeth Santiago's eyes crinkled above a blue mask as her tricycle neared the Lugaw for Leni stand outside the Our Lady of Candles church in Capitol Heights, Barangay Villamonte.
"I need two tarps, please," Santiago said in the local Ilonggo language. "My house sits at a street corner. And I don't want to take this off," she added, pointing to a sign at the front of the motorcycle she drives for a living.
Santiago, a single mother of six children, has lived through tough times. She works four different jobs just to make sure her children get the education she never had.
"I drive this. I sell delicacies. I work for the barangay. And I work for this church."
"This is why I'm here. She [VP Leni Robredo] has been my president for sometime now. She was my vice president. I want her to be president so everything can change. You see the times we live in. Life is so difficult. And I have children," she told Rappler on Saturday, November 20.
In 2016, Santiago voted for Robredo who won overwhelmingly in Negros Occidental over Ferdinand Marcos Jr. She also chose then Davao Mayor Rodrigo Duterte as her president.
"But after what has happened, what has befallen us now, no more," she stressed.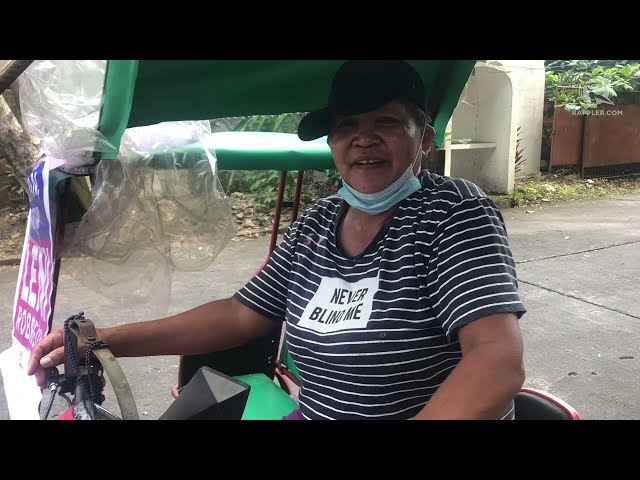 Robredo's campaign has been criticized for being "too elite," perhaps because of the initial bursts of volunteer activities like the colorful motor caravans.
In Negros Occidental, a key opposition province against the late dictator Ferdinand Marcos, sugarworkers, tricycle and pedicab drivers were early volunteers for the Robredo campaign.
But while they showed up in a few social media posts, the predominant caravan images were of middle-class youth, professionals and society matrons.
Not anymore. Across the Philippines, fisherfolks in Cebu, market vendors in Negros Occidental, farming communities in Bukidnon and public utility vehicle drivers flocked to hundreds of lugaw stations, each serving from 150 to 800 persons.
In Barili town and Talisay City, Cebu province, fisherfolk volunteered to serve and then cleaned the coast after their feeding activity. Mothers from the same community handed out pink kites made by youth volunteers to children.
In many areas, too, older campaigners have learned to give way to the youth.
"I have been a volunteer leader of this town since 2010," Alaina M. Oximer told Rappler. "The difference is, before I was the one initiating activities and doing the outsourcing. This time, it's coming from the people's heart."
Oximer, who belongs to Team Leni Saravia, in E.B. Magalona town, Negros Occidental, said volunteers from the grassroots are the one initiating activities, "as in they plan; no more need for more brainstorming."
Their group has close to a hundred volunteers. Oximer said 80% come from the lower middle class and 20% from lower economic classes.
"This group has amazing, intelligent youth volunteers behind it. And It shows!," she said, pointing at Gab, a teenager who served at their lugaw station to substitute for her mother, a stage 4 cancer patient. Her mother had insisted that the family continue helping out with the campaign, "because she believes in hope."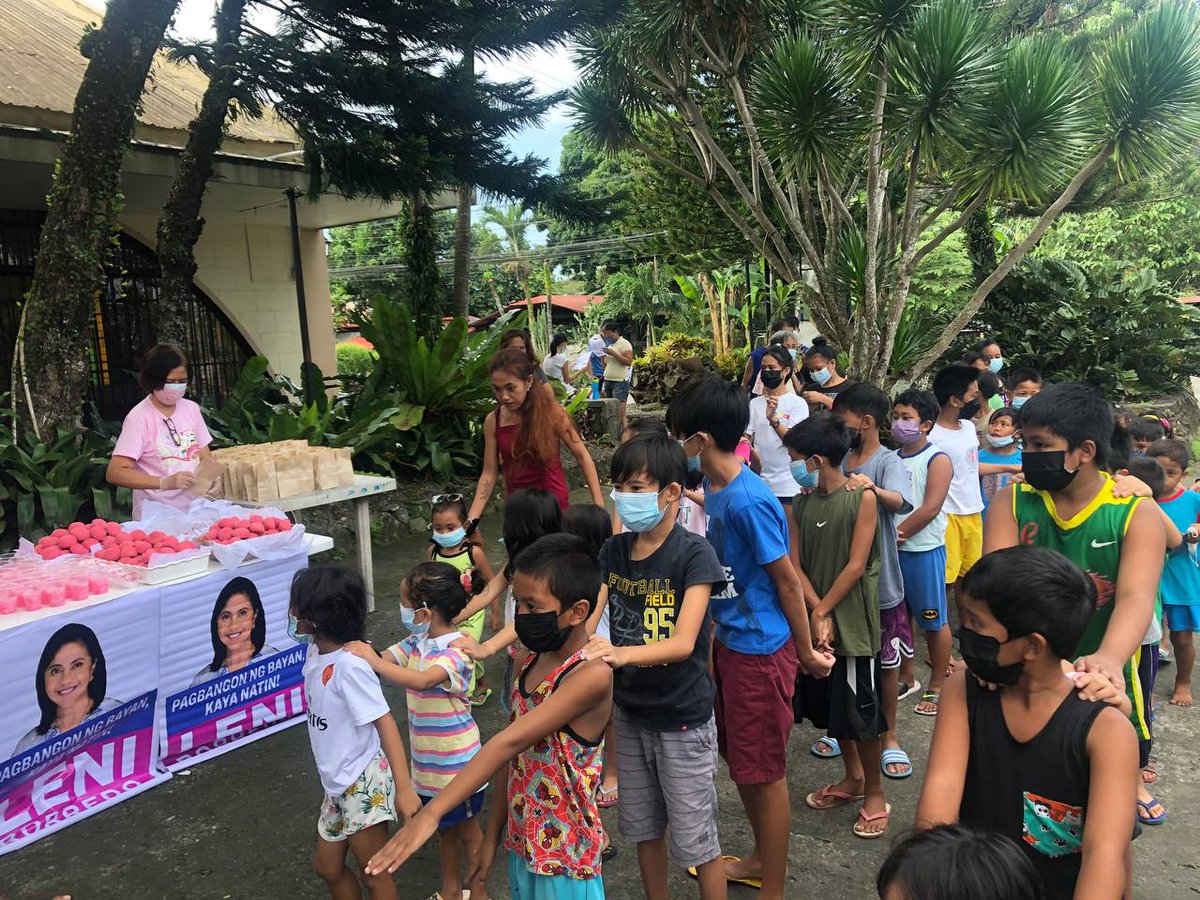 Best communicators
The well-heeled of Negros Occidental quietly donate tarps, billboard spaces, order bread, offer to print out flyers and pamphlets. Increasingly, they find that the best communicators are those already immersed in communities the Robredo camp needs to convince.
Oximer said a growing number of overseas Filipinos who monitor social media are sending donations. Many of them were formerly vociferous Duterte supporters, she noted.
"I am just surprised to wake up and see my messenger full of pledges of aid," said Oximer. But she is happiest when working class women and men ask for a donation box where they can drop P10 or P20. They don't have time to scour social media and so they come to ground events, to help in any way they can, Ozimer pointed out.
In Negros Occidental, volunteers have pledged to welcome former Duterte voters. How else could they get to the margins, where people voted for Robredo as vice president but also voted for Duterte?
Oximer's group made a point of finding one point of contact for each of the city's 23 barangays. From there, the community of volunteers started growing.
When the volunteers come from the grassroots, their shared experience makes it easier to convince peers and neighbors.
Oximer and youth leader Norgee went to give porridge to persons deprived of liberty at a detention cell beside their police station. It was an opportunity to have inmates – and cops – listen to them talk of the need for change.
They carried cups of lugaw to the nearby market. "There, a vegetable vendor, when she saw our group approaching, she cheered and danced to, 'si Leni lang ang Presidente namon'." (Our only President is Leni.)
In Bago City, Lourdes Villaruel Satera said their group started with only 10 members, mostly teachers, a young doctor known for providing free health services to teachers, and "11 family members who did the marketing, cooking and serving."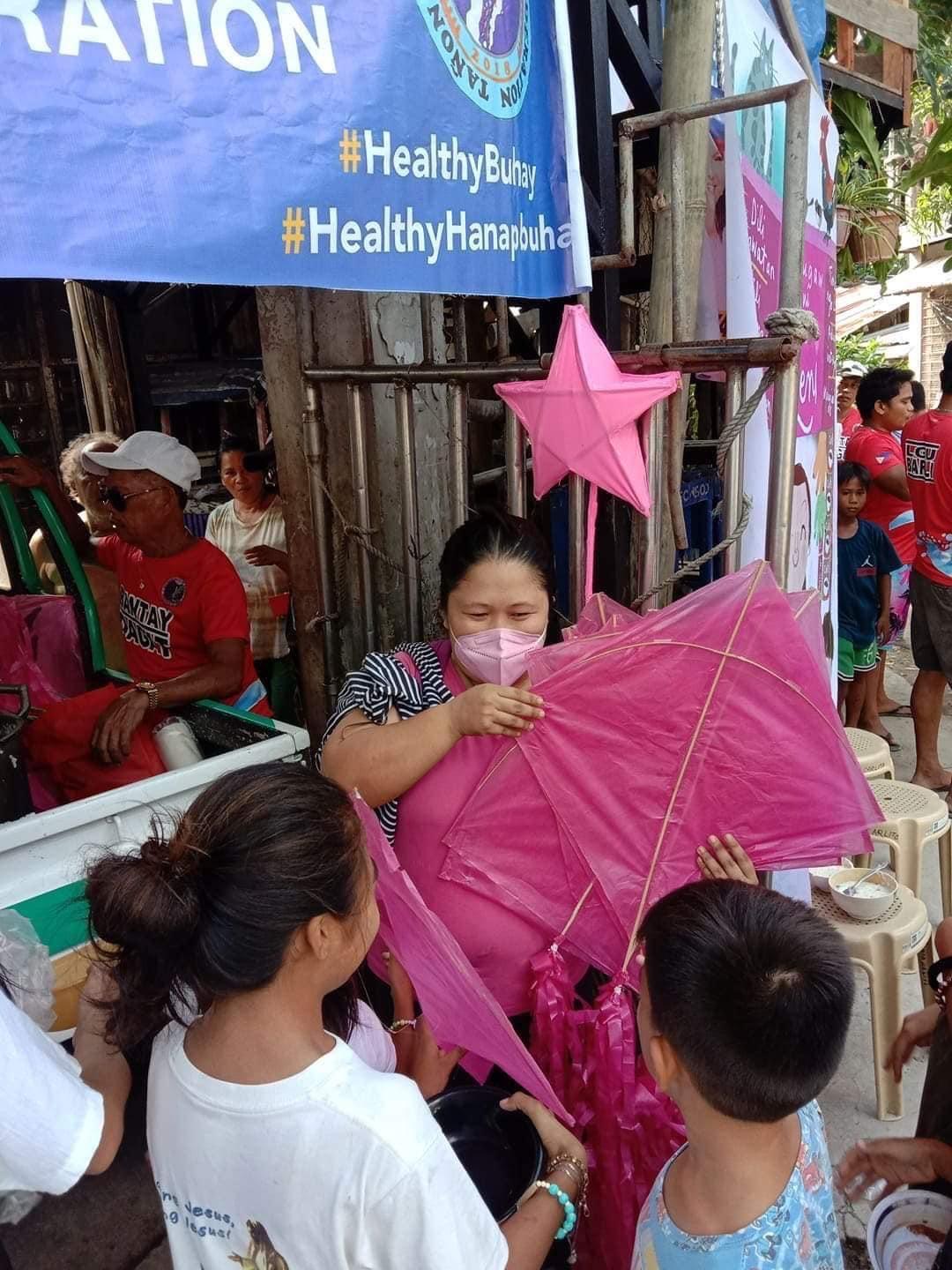 They served lugaw to 200 individuals and the activity attracted pedestrians to stop by and  ask how they could join and help.
In the Capitol Heights station, mothers from the informal Riverbank community just off the subdivision shepherded their children, fixed lines to ensure health protocols, and helped serve the porridge and pink pan de sal that have become a trademark of the campaign.
Their children chanted, "Kay Leni Kami," with gusto.
Thirteen-year old Yujin said he found Robredo kind, from what he's seen on television news. "Kag mapisan sya," he told Rappler. (And she works hard.)
"Kaya protektahan ang bansa," said 11-year-old Richard. (She can protect the country.)
Asked what kind of protection they found most urgent, Richard said, "COVID-19". Yujin said, "ang pandemic." Both chafed at almost two years of being cooped up at home.
"We could not play basketball. We could not go out to see our friends," Yujin said.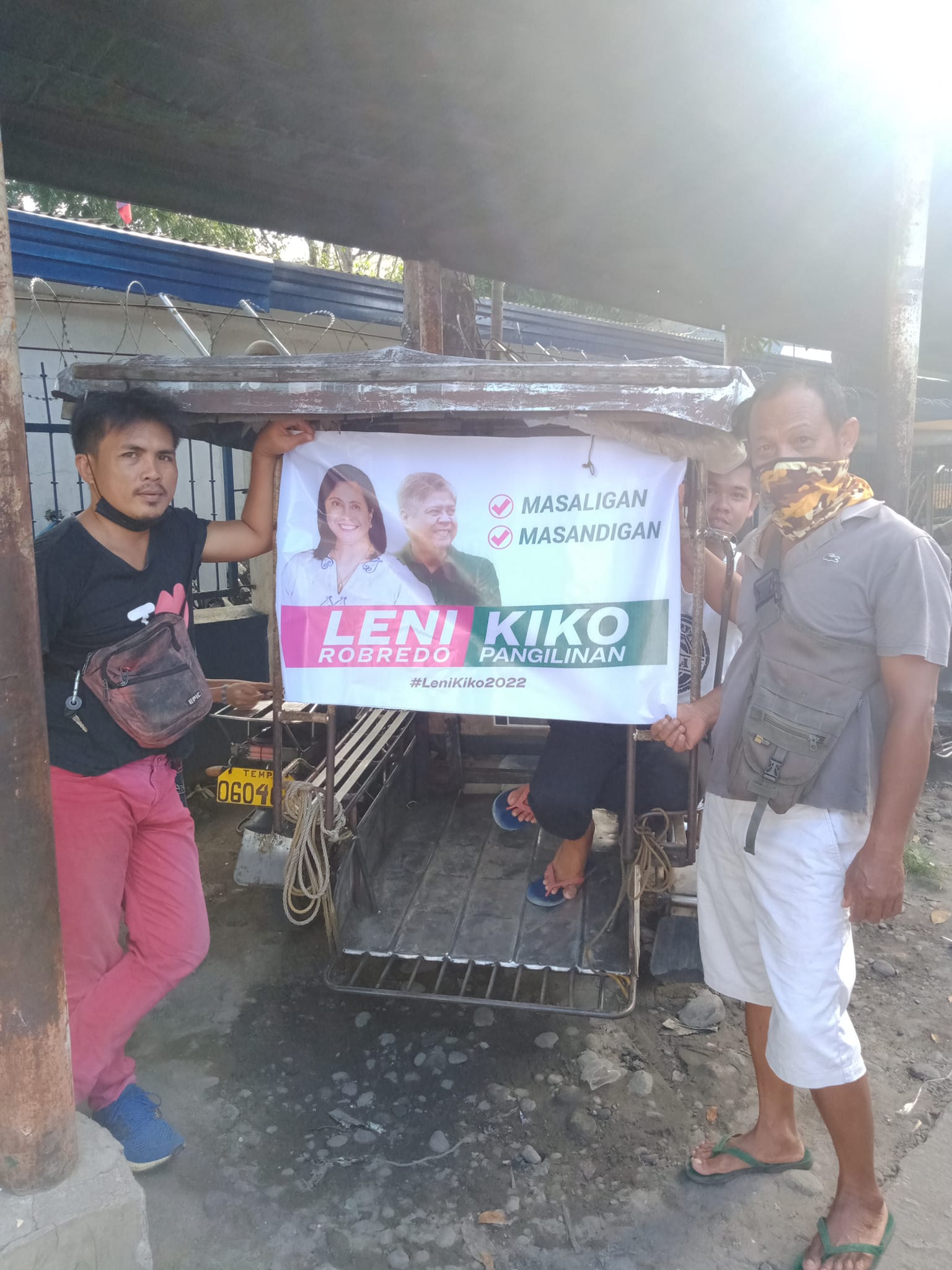 The younger Richard also said, "kabudlay mag-eskwela." (We have a hard time at school.) "Kag dugay wala obra si Papa. Wala kita. Ga-libog si Mama diin makuha pagka-on." (Papa had no work for a long time. No income. Mama worried about where to get food.)
Both their mothers were around, helping out at the station. Both said they would rather let their children speak but confessed the two boys probably got some of their ideas from them.
Not from their fathers, said Maria, Richard's mother, laughing. In Ilonggo, she said, "I'm still trying to get his father to support Ma'am Leni."
Not all men are hardsells. Rolando came running in a sleeveless sando, tattered cargo shorts, and slippers. When told to wait until the activity for the tarp he requested, he begged, saying he was on his way home to La Carlota City, on the wide plains of central Negros Occidental.
One woman volunteer handed over her tarp with a smile and another man approached to give Rolando the name of a local campaign organizer in his home city. He pumped an arm and promised to volunteer once he got home. – with reports from Art Lubiano/Rappler.com