'Our presidency has never been a birthright, so the mayor of Davao should show us why she thinks she can be the kind of leader that her father isn't'
Davao Mayor Sara Duterte claims her father sent her two letters. One was supposed to convince her to endorse the Bong Go-Rodrigo Duterte tandem. The other was to ask her if she could find it within her heart and stomach to take in the court jester of a senator as her running mate if she pursues her padilidili but pretty obvious presidential bid.
Well, that's not exactly how the Davao mayor put it but, somehow, we get the point.
So, we are expected to believe now that in the age of social media trolls and the Beijing-backed Dito Telecommunity, the President prefers to send his daughter letters with the Malacanang seal on them.
Like, can't they send each other PMs or DMs? Don't they send each other text messages?
One moment, they are one big happy family doing a video call; the next, the father sends his daughter a formal letter. It's as if they want everyone to believe now that the only time they communicate via the internet is when a family member catches COVID-19.
The mayor of Davao says the two letters were "endorsed to me by the President for consideration."
It makes me wonder – just how does that work?
Did daddy attach a cover on each letter with these words: "I, Rodrigo Roa Duterte, the President of the Republic of the Philippines, respectfully endorse to the Honorable City Mayor of Davao, Sara Z. Duterte-Carpio, this letter of request sent by her father, Rodrigo Roa Duterte, the Philippine President?" Signed, Rodrigo Roa Duterte.
It also makes us wonder if the father wrote the letters himself or if he merely signed what the pambansang alalay and caregiver brought to his desk for his signature.
The daughter, the only local government executive in the country who does not dread the thought of being smeared and wrecked politically by way of inclusion in Duterte's matrix, did not write the President back. Instead, she took to social media to expose the "letters" and gave her father, Go, and warring PDP-Laban factions a dressing down.
Her social media statement read: "I respectfully advise them to stop talking about me and make me the reason for them running or not running."
First, if she wanted to "respectfully advise" her father, the President, then she could have told him that herself straight to his face. That's what normal families do to settle differences.
Second, no one knew about the supposed letters, which Harry Roque the Spox called "family matters," except the Dutertes. That the daughter volunteered information without anyone asking about it and sent her message via social media for everyone to read makes this narrative incredible.
Was it to set the stage for a Duterte-Duterte scenario in 2022 without being too obvious about the plan? Father and daughter cannot run under one ticket, because that would be brazen and unacceptable to the voters. But it will be another story if there are two tickets, with one having a token standard bearer.
Go can run for President just so Duterte could be his running mate, lose, and then serve the remainder of his six-year term in the Senate. This Duterte yes-man has nothing to lose.
But it's the daughter's running mate who should be worried, because like Alan Peter Cayetano in 2016, he or she would likely get junked in favor of the elder Duterte.
Or was the narrative from Davao only meant to be another public relations stunt? Because, come to think of it, there hasn't been anything with real substance about the presidential daughter that's worth reporting.
The only reason why her separate meetings with the Marcos siblings and Gibo Teodoro, her recent visits to other cities, and her designation of a still non-performing Cebuano personal spokesperson passed off as news was because she happened to be a Duterte surrogate. Remove that from her and I doubt she would even be taken seriously.
Name me just one deed or intelligent pronouncement attributed to her in August that made her stand out from the rest of the country's local executives.
In the middle of the global pandemic, she manages to post throwback photos about her hair, her pants made of Mindanao-produced cloth, peanuts, and her buying from her favorite vendors – like she alone does that.
Don't get me wrong – it's a positive thing, and could help amuse and uplift spirits at this time of great difficulties, and the mayor should be applauded for that. But there are countless other celebrities and ordinary netizens who do that – naturally and with greater success.
What people want to see in the coming days is an actual demonstration of some form of intelligence, not the brute and uncouth type that has characterized the presidency nowadays.
Sooner or later, she will have to impress us with her intellectual prowess and what she has to offer and abandon the "Duterte legacy continuity" message because there is no legacy to speak of, except for the brief episode in Philippine history when a Mindanaoan was given the rare chance of leading the nation – and made a big mess out of it.
Destroy, destroy, destroy
"Build, Build, Build" is overrated. It is an exaggeration. There has never been an administration in my lifetime without infrastructure projects. Of course, infrastructure projects are expected. Come to think of it, what is a government to do with taxpayers' money if not to build and deliver services?
It's not like they are building roads and bridges with money from their own pockets. Give an illiterate a budget and he can hire the best people to plan and build him a road network. Things that are a no-brainer, especially if these are expected of any president, should not be counted out as out-of-the-ordinary accomplishments.
Incidentally, in Marawi City, what the world saw was only "destroy, destroy, destroy." Whatever "build, build, build" is taking place there now is not making the thousands of homeless Maranaos happy. They are still living miserably in temporary shelters after four long years. And the only reason many of them are not speaking up is that they don't want to lose the only shelters they have.
It's baffling to see a government proceeding with the construction of a stadium and convention center in a city flattened by bombs ahead of a hospital project. It just doesn't make any sense.
The mayor's father also failed to deliver on his promise to rid this country of illegal drugs, because his police were content on killing mostly small fry and mere suspects but didn't do anything to cut off the supply from his beloved China and what have you. If Duterte had only cut off the supply, then there would be nothing to sell – and no one to subject to extrajudicial "tokhang."
Someone with Beijing ties and who has been buddy-buddy with his administration despite being linked to the drug trade also turned out to be his government's biggest supplier of PPEs during this pandemic.
The President defended this buddy of his from the intelligence findings in 2018. So, here, we see that he decides who ends up in his big joke of a matrix. Talk about "I hate drugs."
Neither can he boast of any extraordinary accomplishment on corruption, mainly because of his double standard; like the matter on drugs, he and he alone decides who is corrupt and who is not. He promised to do that in 2016 with a straight face.
Five years later or even before that, he said that this was "impossible" and "not achievable." Why didn't he say that in 2016 then? Now, he is saying eradicating it is undoable in such a way that his government would collapse overnight without graft and corruption.
Whatever happened to his promise of firing anyone in government for "just a whiff of corruption"? That too, so it appears now, depends on the mood he is in and whose stinking armpit he is sniffing.
Yet he still shamelessly makes himself look like an anti-drugs and anti-corruption crusader, on one hand, and then blames everyone but himself, on the other hand. It's your friggin' government, for chrissakes!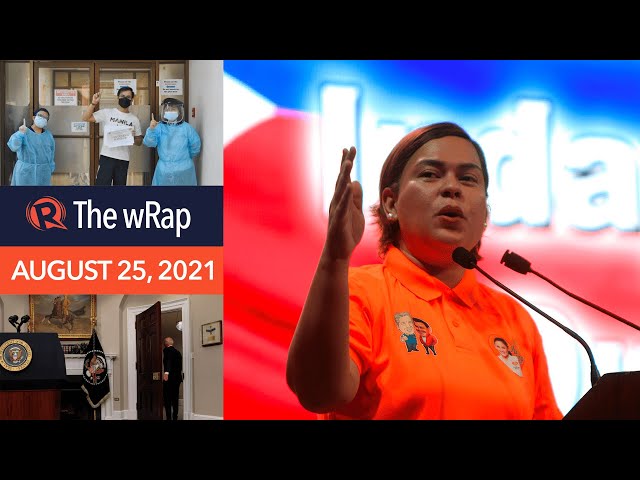 The great disconnect
And so, there is a great disconnect between Sara's father's popularity ratings and the grumblings of the masses on the ground, and even on social media where real people are now beginning to sound alerts at the first sign of fakery and drowning out trolls on discussion threads.
The disconnect, I should state, is an anomaly. But what else is new when this nation has been seeing anomaly after anomaly since 2016? The man's brand of politics itself is an anomaly.
In the real world, there are plenty of angry people, sick and tired of Duterte's empty talk and dolomite politics which, like that beach in Manila, is nothing but an optical illusion. Truth is, whenever this thug cusses on national TV, many others are badmouthing him back in Luzon, Visayas, and Mindanao.
On the ground, most people don't feel the government at all, especially during this crisis.
We don't live in a hereditary monarchy. Our presidency has never been a birthright, so the mayor of Davao should show us why she thinks she can be the kind of leader that her father isn't.
A brawl with a court sheriff isn't exactly what defines good leadership. At best, that's just showmanship. Besides, violence is often the last resort of a person who has run out of arguments for his or her case.
If the way the politician throws punches qualifies her to be president, then she would pale in comparison to Manny Pacquiao who, by the way, also needs to convince us too that he is no intellectual dwarf.
More than 42.5 million people voted for six presidential candidates in the 2016 elections. Over 25.9 million or 61% did not vote for her father. If 16.6 million votes cast for father can be inherited, then the same thing may be said of his 25.9 million rejections.
I wouldn't be comfortable with the surveys if I were in the shoes of the First Family because the only reason the multitudes, including politicians, are holding back is that the patriarch has a gun in the holster and has repeatedly shown that he is capable of running amok.
You see, people tend to handle with care an angry, stray dog that drools. But the moment it gets entangled in a net, they will pounce on that dirty beast. Pastilan. – Rappler.com
Herbie Gomez has been a journalist based in Cagayan de Oro for over 30 years. He now leads Rappler's Mindanao bureau.