This is AI generated summarization, which may have errors. For context, always refer to the full article.
(UPDATED) Will Tito, Vic, and Joey move to Iglesia's NET25, or will they transfer to MVP's TV5?
(Editor's note: Two days after this article was published, Manny Pangilinan's MediaQuest Holdings announced that Tito, Vic, Joey and the Dabarkads would move to TV5. Read the full story here: From Kapuso to Kapatid: Tito, Vic, Joey move 'Eat Bulaga' to TV5)
MANILA, Philippines – Ex-convict and former Zamboanga del Norte congressman Romeo Jalosjos Sr., chairman and majority owner of Television and Productions Exponents Incorporated (TAPE), is in hot water again, this time, corporate-wise, following a bitter dispute with the popular showbiz trio of Tito Sotto, Vic Sotto, and Joey de Leon on how to run the Philippines' longest-running noontime show, Eat Bulaga!.
Jalosjos, who served over a decade in prison for raping an 11-year-old girl, lost all major Eat Bulaga! talents and most of the show's production staff on May 31, Wednesday, after they were prevented from going live for their last show. Tito, Vic, and Joey or TVJ immediately "disengaged" from TAPE, after which other big-name Eat Bulaga! Dabarkads or mainstays such as Maine Mendoza, Paolo Ballesteros, and Ryan Agoncillo followed suit in a show of support.
TAPE has a blocktime agreement with GMA Network Incorporated (GMA) for the noontime slot until end of 2024, which means Jalosjos has to pay the country's leading broadcasting company for the rented air time, regardless of whether TAPE makes a profit from advertising revenues.
Advertisers will likely wait and see whether the new noontime show will also have good ratings, and what the impact of the transfer of the Dabarkads will have on Eat Bulaga!'s viewership.
While TVJ's team is almost complete and can easily put up a new show on another channel, TAPE has to get GMA's support for new hosts and production staff to create live episodes of the variety show. From May 31 to June 3, only replays of Eat Bulaga! were aired on GMA. TAPE was able to air a new show on Monday, June 5, with actor Paolo Contis, singer-actress Alexa Miro, and the Legaspi twins, Cassy and Mavy as the main celebrities.
Getting big-name talents from GMA's Sparkle Artists Center, such as Eat Bulaga! co-host Alden Richards, will be a problem for TAPE since it will be the artist's personal decision whether to continue on TAPE's noontime show. Richards has indicated he will not be joining, after posting on social media, "Always and forever…eatbulaga1979."
If Eat Bulaga! minus the Dabarkads rates poorly in the next year and a half, GMA may choose to drop TAPE altogether by end of December 2024 when their blocktime agreement ends.
Jalosjos' criminal record of raping a minor is a vulnerable point that can be used against the show continuing under GMA, especially in the age of social media. Advertisers will likely be on the lookout for possible backlash from viewers on this issue.
In an apparent damage control after Eat Bulaga! viewers vowed to follow TVJ and the Dabarkads in their new station, Anna Teresa Gozon-Valdes, GMA senior vice-president for Programming, Talent Management, and Support Group, said on Friday, June 2, that they had nothing to do with the internal conflict, and that they are legally bound to honor their contract with TAPE until 2024.
In an interview with One PH's Julius Babao and Tintin Bersola, Tito Sotto said advertisers have called him to express their support. "Ang sinasabi nga nila, kahit saan kami magpunta, susuportahan nila, yun ang panonoorin nila. Nakakatuwa yun kasi narinig ko rin yun sa mga kliyente, narinig ko sa mga advertisers yan. Hindi lang yan kwento ng mga taga-sales, may tawag samin diretso, kasi nasabi sa amin yun na kung saan kami, susuporta sila," he said.
(What they're saying is, wherever we go, they will support us, that is what they will watch. It's gratifying to hear that because I also heard that from clients, I heard that from advertisers, and that's not just small talk from people from sales. We have received calls directly saying they will support us wherever we go.)
Will TVJ pull a surprise?
The most-awaited move is where TVJ is going to put up a new show, and it appears from Sotto's statements on Thursday, after he and the Dabarkads left TAPE, that the strongest contenders are Manny Pangilinan's Kapatid network TV5, and NET25, the news and entertainment channel of Iglesia Ni Cristo's (INC) Eagle Broadcasting Corporation.
The former Senate president disclosed that after they left TAPE, they immediately got calls from executives of NET25, TV5, Cignal TV, and Radio Philippines Network Incorporated or RPN9, Eat Bulaga!'s first channel when it started 44 years ago.
Sotto, who is leading the negotiations for the transfer, said the main considerations are the need to put up a new show as soon as possible, given the mass resignation of talents and production staff who will need new jobs, plus the ability to get along well with the management of their new station.
"Malaking bagay siguro yung magaling makisama, malaking bagay yung matinong usapan, marunong makisama, brotherly love," he said.
(Big factors would be being able to get along well, sensible discussions, being skilled in building harmony, brotherly love.)
Sotto indicated that NET25 could provide a smooth transition given that Wilma Galvante, a retired GMA Network Inc. executive they have worked with in the past, is now a creative consultant of the Iglesia channel. In addition, the trio already has their own respective programs on NET25.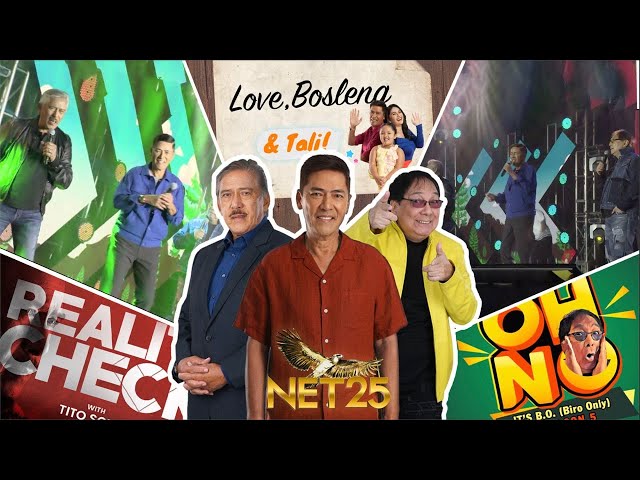 Sotto, who lost to Sara Duterte in the vice-presidential race in 2022 (his first in his political career), has a late night public affairs show, Reality Check, every Saturday. Vic Sotto and his wife, Pauleen Luna, with their daughter Tali, have an early Sunday night family show, Love, Bosleng and Tali. Comedian Joey De Leon has his own gag show, Oh No, It's B.O. (B.O. stands for Biro Only or Joke Only) every Monday afternoon and every Saturday night.
After reports of the conflict within TAPE came out in March, NET25 chief Caesar Vallejos was quoted to have said in May that the Iglesia channel is open to having a noontime variety show with the trio, and that they would be "thankful" if that happens.
Signifying this possible bulaga (surprise) is the fact that – unknown to many – the three are already part of NET25's Summer Station ID, along with other celebrities who now have shows on the Iglesia channel, including former ABS-CBN news anchor Korina Sanchez (Korina Interviews), actor Aga Muhlach (Tara Game Agad Agad), and former Eat Bulaga! co-host Pia Guanio-Mago (Kada Umaga).
NET25 has been growing its entertainment content, especially after ABS-CBN stopped its free-to-air operations in May 2020. Getting a noontime show with TVJ and the Dabarkads would be the station's biggest catch if it pushes through.
NET25 has even put up its own talent center, similar to ABS-CBN's Star Magic and GMA's Sparkle Artists Center. The NET25 Star Center is headed by Eric Quizon, son of the late comedy king, Dolphy Quizon. He signed a contract with NET25 last December, and has a gag show, Quizon CT (Comedy Theater) with brother, Epy Quizon, and half-brother Vandolph.
Vallejos told entertainment website Pep.ph last February that they are "positioning NET25 to be a general entertainment channel that offers wholesome family programming." He added that talents who join NET25 need not be members of Iglesia Ni Cristo. INC is a powerful religious group that practices bloc voting during elections, and its vocal political ally in the House of Representatives, Congressman Rodante Marcoleta, was among the lawmakers who aggressively opposed a franchise renewal for the Lopez-led ABS-CBN.
Two key factors, however, might push TVJ to choose another channel instead of TV5: NET25's low audience reach, and the fact that some of TVJ's variety show content might not pass NET25's definition of "wholesome" family programs.
The best move for TVJ
Jose Maria Bartolome, a senior lecturer at the UP College of Mass Communication (CMC) where he teaches broadcast communication, said the best move, business-wise, for TVJ and company would be to transfer to TV5 since it is still the highest rating station next to GMA7 and its sister channel, GTV, although still a far-second in terms of audience reach and ratings. (See infographic below; the first five on the list are GMA channels on analog and digital.)
A major consideration for TV5, however, is that it already airs ABS-CBN's noontime variety show, It's Showtime, under a blocktime agreement with ABS-CBN. If TV5 chooses to keep comedian Vice Ganda and company, it would have to look for another time slot for TVJ and the Dabarkads.
Vic Sotto won't be a new face on TV5 as he used to host the hit game-show, Who Wants to Be a Millionaire Philippines on the Kapatid channel. Likewise, Joey de Leon had the long-running gag show, Wow, Mali!, which aired for many years on TV5.
In an apparent hint about a possible transfer to TV5, De Leon said in an Instagram post, "Sabi ko noon (I'd said before), we are not signing off, we are just taking a day-off. In other words, pahinga muna (we're just taking a rest). In Engish, TAKE FIVE! 😊"
A move to Pangilinan's channel could be under a blocktime agreement with Brightlight Productions Incorporated, owned by businessman and incumbent Bacolod City Mayor Albee Benitez.
Tito Sotto said in the same interview with Babao and Bersola that prior to leaving TAPE, he had already been in talks with Benitez on reviving a '70s gag show, Okay Lang. He didn't say for which channel, but Benitez has been blocktiming several shows on TV5, including the now-defunct noontime variety show, Sunday Noontime Live or SNL. The businessman-politician also told the Philippine Daily Inquirer recently that he was willing to invest in a noontime show with TVJ, amid reports then about the conflict between TVJ and the Jalosjos family.
Another option would be for TV5 or Cignal TV to co-produce a show with TVJ. The Kapatid network is on a second attempt to expand its entertainment content in a bid to improve TV5's viewership and revenues, following a failed move to make the network profitable with sports and news programs under TV5's former head, basketball coach Chot Reyes.
An advertising industry executive who asked not to be named told Rappler that a transfer to TV5 would have other benefits for TVJ other than it being the number two network. Pangilinan also leads the country's largest telco, PLDT Incorporated. Its wireless business Smart had more than 66 million system-wide subscribers at the end of 2002, roughly 40% of the market. These can be used to promote TVJ's new show through various marketing strategies.
Another plus for moving to TV5 is Pangilinan's Cignal TV, the Philippines' biggest Direct-To-Home (DTH) satellite provider with around 4 million subscribers. Cignal TV transmits 134 channels to households and commercial venues such as hotels and restaurants throughout the country. It also offers pay-per-view channels and online streaming via Cignal Play's website and app. Like GMA, it also has its own set-top box, Cignal Digital Box, that allows viewers to enjoy digital channels on analog TV sets.
For TV5, TVJ and the Dabarkads can increase much-needed viewership and ratings among the masses, the metrics that many advertisers watch out for. "They have the star power that can drive eyeballs to TV5. TV5 currently does not have that," the advertising executive said.
Not an easy road
Regardless of whether it will be TV5 or NET25, it won't be an easy road for TVJ and the Dabarkads to having the strong ratings it enjoyed when it was with GMA for nearly 30 years.
Although they have built a strong bond with viewers by giving the Filipino masses their daily dose of entertainment and laughter to forget their problems even for just a couple of hours, it's going to be a struggle going up against GMA's noontime show via TAPE, given the Kapuso channel's wide audience reach and GMA Network Inc.'s strong financial position.
After the Duterte administration ordered ABS-CBN to shut down its free-to-air TV and radio operations in May 2020, GMA became the country's undisputed broadcast leader. With its 95 TV stations and 21 radio stations, the Kapuso network said it had a 59.5% "people audience share in 2022" or 6 out of 10 households based on January to December 2022 data from Nielsen TV Audience Measurement.
Its flagship channel, GMA-7, on VHF Channel 7, plus its sister channel, Good TV or GTV (formerly GMA News TV), are the leading channels in the country. Both provide news, entertainment, and public affairs. GTV also has sports programs.
The loss of ABS-CBN's digital channels also allowed GMA to become the dominant player in digital terrestrial television, the technology that allows viewers with analog TV to receive digital channels. With GMA's Affordabox, it has been able to put up digital channels such as Heart of Asia, Hallypop, I Heart Movies, while ABS-CBN's popular TVPlus digital channels, such as CineMo, Yey, and Jeepney TV, are no longer on DTT.
"Sobrang lamang ng GMA in terms of reach (GMA's lead in terms of reach is so wide now)," Bartolome, a retired GMA executive who has also worked with TV5 as consultant, said.
He noted that ABS-CBN used to be the leading network in Visayas and Mindanao, but that is no longer the case after the Duterte administration ordered its free-to-air operations shut down, followed by the House of Representatives rejecting a new franchise for the Kapamilya network.
With GMA's biggest competitor killed, many television advertisers bought more spots on the Kapuso network, enabling the company led by lawyer Felipe Gozon to earn a record P21 billion in advertising revenues in 2021 and P20 billion in 2022.
With its strong financial position, GMA can easily hire other comedians and variety show hosts if it wants to help TAPE. This will help cushion the loss in viewership from the loyal followers of TVJ and the rest of the Dabarkads.
What will make the road easier for TVJ is that this is now the age of social media, where it is much easier to promote a new show, as well as bring down competition. Actress Maine Mendoza of AlDub fame, for instance, has a strong social media presence with 7.2 million followers on Facebook, 4 million followers on Instagram, and over 500,000 subscribers on YouTube.
Along with the social media accounts of the other Dabarkads such as Paolo Ballesteros and Ryan Agoncillo, these will come in handy in getting eyeballs to their new show and station, especially if the Intellectual Property Office (IPO) rules in favor of TAPE over who gets to use the Eat Bulaga! trademark for a television show. Sotto claimed TAPE has the right to use the trademark only for merchandising, and that they are waiting for the IPO's decision on who can use Eat Bulaga!, Joey de Leon's invention, for a television program.
Whichever channel TVJ chooses, it's not new territory for them. Having been in showbiz for nearly half a century, their creativity and chemistry may just surprise everyone. – Rappler.com