Alexis Tsipras says people should be allowed to elect the nation's president – who is currently chosen by parliament – if efforts by lawmakers fail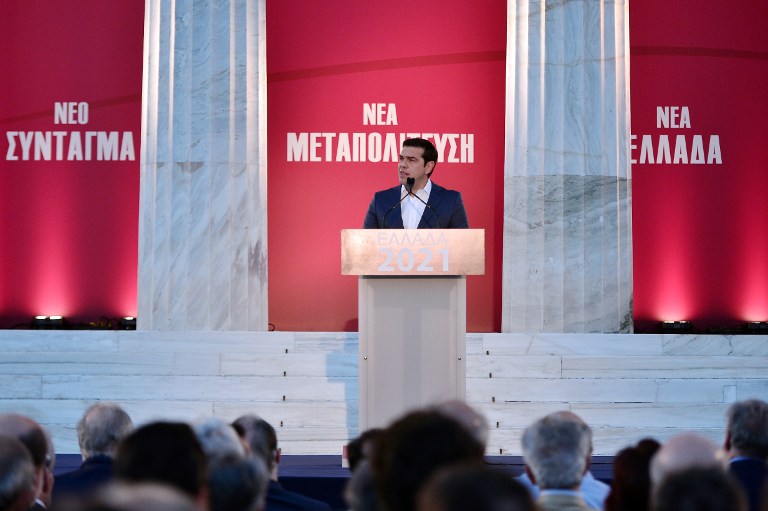 ATHENS, Greece – Greek Prime Minister Alexis Tsipras on Monday, July 25, said the constitution should be revised to give Greeks "direct democracy", a say in electing the president and the right to hold referendums on laws.
"It is time to set aside fear of the people's judgment… even if the people are not infallible," Tsipras said in a televised speech.
He said people should be allowed to elect the nation's president – who is currently chosen by parliament – if efforts by lawmakers fail, as they did last year.
The people should also be able to reject laws by referendum – except those on fiscal matters – and propose their own legal initiatives, Tsipras said.
Lawmakers should only be allowed to serve a maximum of two consecutive terms in parliament.
The Greek state should also be "religion-neutral" and officials should take civil oaths, even if Greece's main religion remains Orthodox Christianity, the leftist PM said.
This last proposal is likely to raise eyebrows in Greece, where Tsipras – a self-admitted atheist – became the country's first-ever prime minister to take a civil oath on his election last year.
And the PM must also sway his own Syriza party, where a sizable faction sees no need for constitutional revision.
He said discussion groups would be formed nationwide and deliver a report by April on public proposals for the constitution.
Most opposition leaders boycotted the ceremony, held mainly before Tsipras allies in front of parliament.
Even if approved, the constitutional changes cannot be set in motion by the present parliament.
They can only be enacted by the legislative body that will emerge after the next elections, which are normally due in 2019.
However, Tsipras' coalition government rests on a fragile three-seat majority and it is widely assumed that he will be unable to complete his four-year term.
Tsipras said decisions would be taken in a year's time and could be supported with a referendum on the issue.
The Greek constitution has been revised three times in the last four decades, with the last changes coming in 2008.
Successive parliamentary votes are required to change a constitutional article – one to nominate a specific article to be amended, and another to actually rewrite it.
From the two votes to be held on each article selected for amendment, at least one must be carried by a majority of 180 out of Greece's 300 lawmakers.
Tsipras can currently rely on at least 153 deputies to approve his proposals, but finding another 180 to confirm the changes, up to three years from now, will not be easy.
Tsipras' popularity has waned after he was forced last year to accept an unpopular EU bailout to keep Greece in the eurozone.
Polls show he could actually lose the next election to Kyriakos Mitsotakis, leader of the conservative New Democracy party. – Rappler.com