A former Aquino ally, Cagayan Governor Manuel Mamba follows orders from the Nacionalista Party to support Marcos, and hopes the party guides Marcos not to become a dictator
ILOCOS SUR, Philippines – People in red showed up on roads and highways in Ilocandia in mid-February, when, for four days, the Uniteam held a motorcade from Isabela to Cagayan to Ilocos Norte and then Ilocos Sur. Some held up portraits of the late dictator Ferdinand Marcos or his son and namesake, presidential frontrunner Ferdinand "Bongbong" Marcos Jr.
The four provinces make up a big chunk of the so-called Solid North that delivered votes for Marcos in the 2016 vice presidential elections, though they were not enough for him to defeat Vice President Leni Robredo, who is once again his rival in the May 2022 presidential polls.
The governors of these provinces have declared their support for Marcos and running mate Davao City Mayor Sara Duterte, but political players on the ground that Rappler talked to described an unprecedented "silent" movement for Robredo that aimed to cut into the Marcos base here. (Aside from Marcos and Robredo, the other key candidates running for president are senators Panfilo Lacson and Manny Pacquiao, Manila Mayor Isko Moreno, and labor leader Leody de Guzman.)
Asked about doubts that the so-called Solid North would deliver again for Marcos, his spokesperson Vic Rodriguez told reporters on Monday, February 21: "Karapatan naman nila, may sarili silang kampanyang pinapatakbo, mayroon din silang internal assessment and they have all the right to come up with their assessment, and we respect it ano man ang kanilang paniniwala."
(That is their right, they are running their own campaign and they have an internal assessment and they have all the right to come up with their assessment, and we respect whatever their belief might be.)
Up for grabs are a total of 2,789,974 votes from the four provinces, based on the 2022 voters' data from the Commission on Elections (Comelec). In the 2016 vice presidential election, Marcos got a commanding 83% of the votes in Ilocos Sur, Ilocos Norte, Cagayan, and Isabela – or 1.5 million. Robredo then only secured an estimated 9% of the votes, or over 160,000, from the same provinces.
Will the coming presidential race be any different?
Party politics and Mamba
In Cagayan, where there are 766,018 voters for 2022, Governor Manuel Mamba, a former stalwart of Robredo's Liberal Party (LP), has thrown his support for Marcos and Duterte. In 2016, Marcos got 78.9% of the votes in his province.
But it's complicated: Mamba's archrival in the province, former senator Juan Ponce Enrile, is a staunch Marcos ally. In fact, Marcos and the Uniteam held their rally in Tuguegarao City on February 14, Enrile's birthday.
Mamba chose not to attend the rally, but conceded he's supporting the Marcos-Duterte ticket because of an order from the Villars' Nacionalista Party, which is also the governor's party after he left LP.
"Nasabi na ni Cynthia [Villar] kagabi, with Mark Villar and General [Edgar] Aglipay. General Aglipay is the father-in-law of Mark. So, kinausap nila ako kagabi, okay na si Senator Cynthia. It's a party decision. Kinupkop nila ako. I place the future into their hands," Mamba told Rappler on February 14. Mark Villar, son of the senator, is running for the Senate on the Uniteam slate.
(Senator Cynthia Villa, with Mark Villar and General Edgar Aglipay – General Aglipay is the father-in-law of Mark – they talked to me last night that Senator Cynthia was okay with it. It's a party decision, they took me in. I place the future into their hands.)
Rappler has reached out to the camp of former public works secretary Mark Villar for his side, and will update this story when they respond.
Mamba, who was presidential legislative liaison officer under the administration of the late president Benigno "Noynoy" Aquino III, explained: "I was not with BBM [Marcos] initially" due partly to the Marcos endorsement from the Enriles. Marcos has also been seen with reelectionist Cagayan 3rd District Representative Jojo Lara, whose wife Zarah is running for governor against Mamba.
"Sa akin, depende kung sino 'yung makakapag-deliver ng votes (For me, it boils down to who can deliver the votes)," said Mamba.
Mamba said Marcos is already a strong contender in Cagayan anyway, having won 383,657 votes there in 2016 against Leni Robredo's 54,971. The son of the dictator "does not need local leaders" to win the vote in the province, he added.
Besides, Mamba openly campaigning for Marcos would be odd, to say the least. He took part in the 1986 EDSA People Power Revolution that toppled the dictator, and, in September 2020, Mamba blasted priest Ranhilio Aquino for the latter's justification of Martial Law atrocities, saying, "Hindi makatwiran ang pagtatanggol sa mga plunderers at korap, lalong-lalo na sa mga nakinabang sa mga gawaing korap." (It's not right to defend the plunderers and the corrupt, especially those who benefited from corrupt acts.)
So the governor can only hope. "Hopefully, the [Nacionalista] Party will also guide si Bongbong 'pag nanalo. Nakita naman nila, ang hirap-hirap ng maging diktador. There are consequences of the mistakes in the past. I think Nacionalista Party will help…sa mga decisions at the best of interest palagi," said Mamba.
(Hopefully, the Nacionalista Party will guide Bongbong also if he wins. They saw how difficult a dictatorship was. There are consequences of the mistakes in the past. I think Nacionalista Party will help make decisions that are always in the best interest [of the public].)
A mayor speaks out
Tin Antonio, first-term mayor of Alcala in Cagayan, is a vocal Robredo supporter, and she told Rappler in a Zoom interview on February 14 that she noticed "a marked, noticeable, and discernible shift" from the Marcos solid base.
Antonio said this happened after Marcos snubbed the GMA presidential interview hosted by award-winning journalist Jessica Soho, an Ilocano herself.
"They felt they were failed [by Marcos]. Ang hirap ipaglaban 'yung tao na ayaw naman ipaglaban 'yung sarili niya sana at ipresenta 'yung sarili niya," Antonio said. (It's hard to fight for someone who doesn't want to fight for himself, or present himself.)
Antonio said other Marcos supporters whom she had met believed the tall tale that they would get part of the Tallano gold if Marcos won. It's a myth that historians have repeatedly debunked, and Marcos in recent interviews have said he is neither in possession of nor has he seen gold, even though his family played up this fantasy or at the very least allowed it to fester.
"Hindi ko maintindihan nga eh. Hindi siya sa level ng reason, pero 'yung desire na parang get rich quick na scheme, it's the dream. That's what they're peddling eh…it's the dream. That's why it's catching like wildfire among commonfolk," Antonio said.
(I don't understand. It's no longer in the level of reason, but the desire to get rich quick, that scheme. It's the dream. That's what they are peddling, the dream. That's why it's catching like wildfire among commonfolk.)
Antonio is a human rights lawyer who, before running in her hometown, fought President Rodrigo Duterte's drug war with her firm, the Center for International Law. CenterLaw was co-founded by Harry Roque, who has pirouetted on previous human rights causes, including compensation for Martial Law victims, to be part of Marcos' Uniteam.
The mayor said it looked to her like some local officials in Cagayan towns were still careful at this point, observing whether Robredo could catch up before throwing in their lot with her.
Antonio is not going to wait for that, as she has gone all out for Robredo in a Marcos country, setting aside the risk that she can lose votes in her reelection bid in May over this.
"I cannot sacrifice my moral values, what I believe is right, just because I am so scared to lose the job. And, the truth is, it's actually part of my job to say these things. It's part of the job description, to guide people, to give them lamp posts. Of course, it is up to them if they follow my guidance or the things I say. After all, it's free will," said Antonio.
If in Cagayan there's some neutral ground, Isabela seems in the bag for Marcos.
Isabela's politics the same, but…
Isabela Governor Rodito Albano is hoping to deliver the province again for Marcos, who won 74.7% of the votes cast in his failed 2016 vice presidential bid. Isabela has 1,112,858 voters for 2022.
Sara Duterte took her motorcycle sortie there on February 15, as Marcos went back to Manila that day to attend the debate organized by SMNI station, owned by Apollo Quiboloy, the preacher wanted in the United States for sex trafficking of children and who had already endorsed their tandem.
"Honestly, nobody would blame Mayor Inday Sara if she chose not to come here; she could have relied solely on the popularity up north of former Senator Bongbong Marcos and still could have enjoyed a comfortable victory. But she is here with us today and we are delighted," Albano said during the February 15 grand rally in Ilagan City.
Former Isabela governor and broadcaster Grace Padaca told Rappler that "virtually, there is no active opposition here."
It's the same as it has always been in dynasty-ruled Isabela, said Padaca, but she notes some difference in these elections – with ordinary citizens organizing themselves to support the tandem of Robredo and Senator Kiko Pangilinan.
"Iba kasi yung dating ng Leni campaign ngayon eh, na wala mang political opposition dito ngayon, I am pleasantly surprised to find out that people have organized themselves as ordinary citizens to support the Leni candidacy…the Leni-Kiko candidacy, na parang galing sa tao. Hindi 'yung may galing sa 'taas na in-organize nila," said Padaca.
(Leni's campaign now gives you a different feel. While there might not be a political opposition here, I am pleasantly surprised that people have organized themselves as ordinary citizens to support the Leni candidacy…the Leni-Kiko candidacy, like it's a grassroots initiative. It's not a case of the headquarters organizing this for them.)
A local official in Isabela recalled that Robredo and the LP did not actively campaign there in 2016, yet for this campaign, voters have organized themselves into councils, moving even before officials with resources could enter the picture and help them.
"Dati naka-12% si VP Leni dito, wala namang nagkakampanya sa kanya nun eh. Ngayon may mga peoples' organizations, may mga volunteers, tapos may natural opposition kay BBM, 'pag pinagsama-sama mo 'yun, significant din 'yung makukuhang boto dito ni VP Leni unlike before," the local official said, adding that a practical goal would be to get 20% to 25%, which is around 278,214 votes.
(VP Leni got 12% here before even when nobody campaigned for her. Now there are peoples' organizations, volunteers, and the natural opposition to BBM. I you pool all that, VP Leni would get significant votes here unlike before.)
The official said there are a number of local leaders "silently" helping the Robredo-Pangilinan team's efforts in Isabela, where the tandem's tarpaulins were recently taken down, prompting an outcry from Robredo supporters.
Ilocos for Marcos
And what about the home province of Marcos and that of his key campaigner, former Ilocos Sur governor Luis "Chavit" Singson?
The motorcade for the Uniteam in Ilocos Norte on February 16 and Ilocos Sur on February 17 were grand displays of force for provinces that have a combined 911,098 voters.
In Ilocos Norte, mayors were seen by the road with their constituents waiting for Marcos' mobile to pass by. With Marcos on the vehicle were Ilocos Norte Governor Matthew Marcos Manotoc and his mother Senator Imee Marcos, also a former governor of the province.
The support of mayors in Ilocos Norte is expected, although the absence of their cousin Laoag City Mayor Michael Marcos Keon still sticks like a sore thumb in the unity theme of the Marcos-Duterte campaign. The Marcoses have dropped Keon and are supporting their cousin's mortal enemy for Laoag mayor, current vice mayor Vicentito Lazo.
Still, thousands showed up no matter how late the motorcade reached the capitol in Laoag City.
In public, no official would openly defy the Marcoses, four people close to the local government told Rappler. They requested anonymity for fear of consequences.
One of them called the Marcos enterprise in Ilocos Norte "almost syndicated" as those who incur their wrath are harassed over business permits. They also fear the consequence of suspension from the Sangguniang Panlalawigan, adding that the family is "vindictive," rendered people here "mummified."
"Hindi ako nalulungkot, natatakot ako. We will go to the dogs. I do not mind whoever wins [just not Bongbong]. He's going to be a bad president and they will be frustrated," said one.
(I am not sad, I am scared. We will go to the dogs. I do not mind whoever wins [just not Bongbong]. He's going to be a bad president and they will be frustrated.)
They agreed with former Laoag City prosecutor Manuel Aurelio, who told Rappler in an earlier interview that Marcos was "an absentee governor" of Ilocos Norte, adding that it was good for Aurelio to have spoken out. But as long as the opposition here remains a "tiny minority," they said they would have to publicly support the son of the dictator.
Former Ilocos Norte governor Rodolfo "Rudy" Fariñas, running for governor again against Matthew Manotoc, declined to give an interview. In November, he told radio DZME that when Marcos was governor "wala naman po siyang naibigay (he wasn't able to give anything)."
Some people here are hoping that Fariñas beats Matthew, and his daughter Ria Fariñas keeps her 1st District congressional seat that Marcos Jr.'s eldest son Sandro is gunning for. In Laoag, Rudy's niece-in-law Chevylle is running for mayor in a three-way fight with Keon and Lazo. They say that if the Fariñases win, it could break the apparent invincibility of the Marcoses in their province.
That is why some people believe that Marcos did the Ilocos leg not just to campaign for himself and running mate Sara Duterte, but for Sandro and the rest of the Marcoses caught in their battles in the local scene.
"I thank them for coming and not taking Ilocos Norte and Ilocandia for granted. Alam naman po natin na medyo expected ang mga boto para sa kanila subalit pumunta pa rin sila (we know that the votes for them are expected here, but they still came)," said Manotoc during the Ilocos Norte grand rally in Paoay on February 16.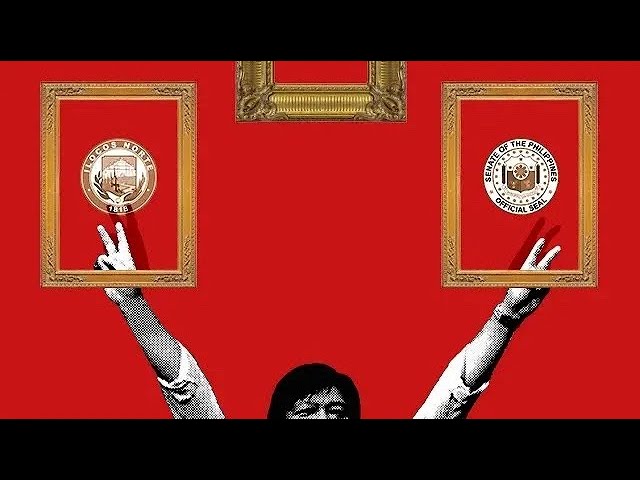 Fight is over?
There is indeed a "tiny minority" in Ilocos Norte backing Robredo and Pangilinan, one that's matched with the establishment of a Leni-Kiko volunteer center in Vigan, capital of neighboring Ilocos Sur.
But it looks like an uphill climb for now.
Governor Ryan Singson and his father political kingpin, Narvacan Mayor Chavit Singson, took Marcos and Duterte to meet mayors and other local officials on February 18, before heading to Narvacan for a jampacked program.
Missing in the Narvacan rally was Chavit Singson's vice mayor, Pablito Sanidad, former president of the Free Legal Assistance Group (FLAG) now led by lawyer Chel Diokno of the Robredo-Pangilinan slate. Sanidad belongs to a family of lawyers who fought Martial Law, and he was actually one of the first to challenge Martial Law in the Supreme Court.
Chavit Singson said they could deliver 90% of Ilocos to Marcos and Duterte, with the help of nostalgic campaigning that buries the horrors of Martial Law. The older Singson falsely claimed that "noong panahon ni Apo Marcos, wala namang pinapatay sa Malacañang (during the time of the elder Marcos, no one was ordered killed in Malacañang)."
Sara's own grandmother actually fought Martial Law, a dark period from 1972 to 1981, when 70,000 were detained, 34,000 were tortured, and 3,240 disappeared and presumed to have been killed.
But people we talked to on the streets of Ilocos Sur either do not believe historical facts and court decisions, or justify the dictator Marcos as an inherently rich man whose corruption had something to show for like big buildings and bridges.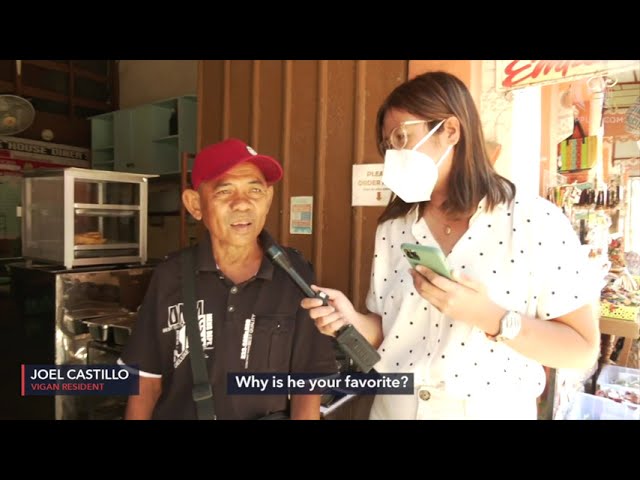 In Narvacan, Uniteam senatorial candidate Gilbert Teodoro proclaimed in Ilocano that the voting was just a formality for an inevitable outcome – Marcos as the president come May. Recent surveys pegging him at an unprecedented 60% rating is a boost to that claim.
"Ag-anos tayo laeng, sagmamano nga bulan lang nen, nalpasen apo. Ngem tatta pay laeng apo, nalpasen agsipod ta nanggeg mi ti kiddaw, haan laeng ti ka-ilocan nu di ket amin nga pag-ilian," Teodoro said during the Narvacan rally on Thursday, February 17.
(Let's just be patient, a few more months and it's over. But the fight is over today, since we heard the plea not just of Ilocanos but our other countrymen.)
To Mayor Antonio of Alcala, Cagayan, however, it's too early to tell. "In 2016, it was also like this. VP Leni came from behind. So I guess the politicians are also being very careful and watching." – Rappler.com