This is AI generated summarization, which may have errors. For context, always refer to the full article.
EJ Obiena comes out triumphant despite a delay of over one hour caused by heavy rain as he defends his SEA Games men's pole vault crown
PHNOM PENH, Cambodia – Dark clouds hovered over the Morodok Techo National Stadium on a rainy Monday afternoon, May 8, but it was clear as day why EJ Obiena is the Asian pole vault king.
Obiena bucked heavy rain and gusty winds as he captured his third straight gold medal in the Southeast Asian Games, shrugging off an improved field of foes in the event wherein he is practically untouchable in the region.
Breaking his own SEA Games marks of 5.46m he set last year in Vietnam, Obiena cleared 5.65m despite a rain delay of over one hour.
"This is tough. This is a different kind of challenge for sure," he said.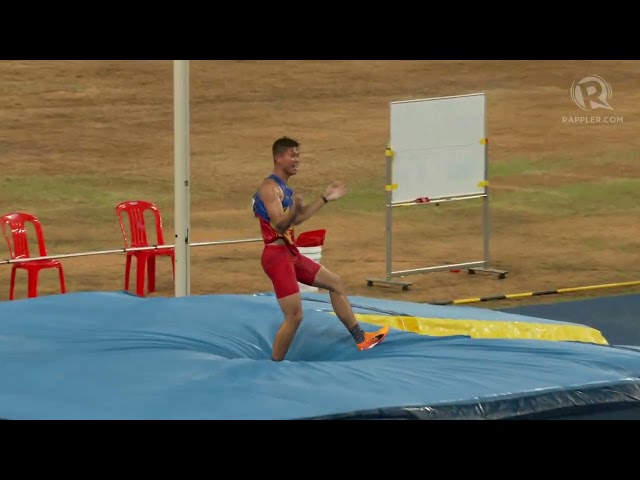 Obiena surpassed 5.20m and 5.40m before rain stopped play, forcing the pole vaulters and organizers to retreat to umbrella tents scattered all over the field.
But the delay hardly slowed down the Asian record holder as he smashed his previous SEA Games mark by clearing 5.50m then broke it three more times with clearances in 5.55m, 5.60m, and finally, 5.65m.
He roared after his final vault and took a bow before a small but loud Filipino crowd at the 75,000-seater venue.
"This rain, God-willing, it stopped when I started jumping. I couldn't have done it like this without the crowd. All the things that happened, God's plan. I'm just happy," said Obiena.
Thailand's Kasinpob Chomchanad and Patsapong Amsamaring completed the podium with silver and bronze, respectively, as they both leapt past 5.20m.
Philippine team newcomer Elijah Cole failed to clear a height as he exhausted all of his three attempts at 4.90m in his SEA Games debut. – Rappler.com