Technology, nostalgia, and interactive art are highlighted in this year's event which features 64 exhibitors and artists
MANILA, Philippines – After three years, Art Fair Philippines finally returns to The Link in Makati City, transforming the parking building into a creative space for 64 exhibitors and artists from all over the world.
With the event marking its 10th year, Art Fair Philippines 2023 continues to serve as a platform to showcase and expand the audience for local art through the "best in modern and contemporary Philippine visual art."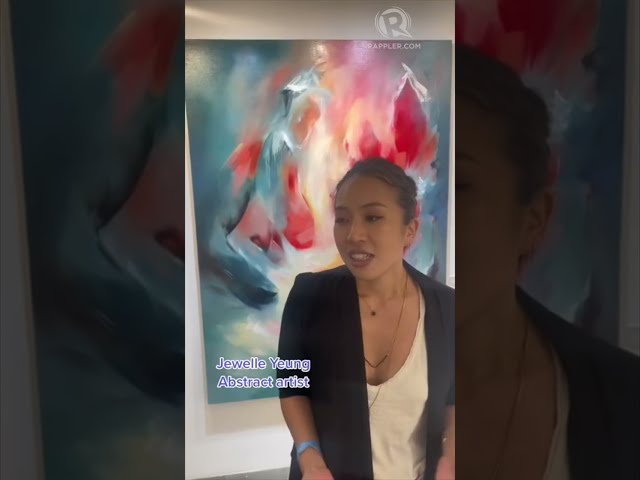 Members of the media were given a sneak peek of the event on Thursday, February 16, ahead of its official opening from February 17 to 19.
Organizers say that this year's fair uses biophilic design – an approach that focuses on the human connection to the natural world – to give fairgoers "a refreshed experience of the fair in an organically designed setting, enhancing the spirit of discovery and surprise while exploring the fair."
From the fourth floor to the roof deck of The Link, visitors can see artworks in different forms such as paintings, tapestry works, sculptures, and photographs.
"It's about things you can't really describe with words because there's something that you feel. It's the raw emotion," abstract artist Jewelle Yeung explained when describing her exhibit, "Words Unspoken."
Yeung told Rappler that the artworks were done after she took a long break from painting to take care of her family.
Among artworks that were showcased in Art Fair Philippines 2023 were works from international artists such as Shiori Saito, Peter Zimmermann, and YUNIZAR, among others.
One of the common themes found in the works seen in this year's Art Fair Philippines is nostalgia such as those found in Orange Project's "Ato Bala," which focuses on works from Bacolod-based artists; and GNCH's "A Fair of Fragile Lims: Gaudy Skies."
"I wanted…the context of my works to be preserved in a different format," multi-disciplinary artist Aeson Baldevia told Rappler in reference to his works "Ato Bala guina ubra nila" and "Ato Bala sa Dakô Balay," which depict objects and scenes found in Filipino households that have become obsolete over time.
"The purpose of my show is to commemorate my childhood," said self-taught artist GNCH, whose real name is Gen Lazaro. He told Rappler that he had a fascination for clouds as a child.
Interactive art pieces were also shown front and center during the event.
Yeo Kaa presented her own interactive sculpture called "Strong Girl" in her special exhibit where people can spray paint the artwork through bottles. Beside the sculpture are paintings, which were inspired by her diary, that show a contrast between light colors and scenes of distress.
"Kapag 'yung tao lagi siyang mukhang masaya, hindi ka na nagtatanong kung okay siya o hindi (If a person looks happy, you don't ask if they are okay or not)," she told Rappler.
Yeo Kaa added that her exhibit is about strength, celebrating how she is still alive to this day.
As visitors checked sthe different exhibits, models walked down the Art Fair space with clothes from Jude Macasinag's latest collection, "Artist's Proof," a collaboration with Gravity Art Space.
Coming from last year's fair, Art Fair Philippines continues to integrate elements of technological advances in the last few years, especially the use of non-fungible tokens and augmented reality.
Some exhibitors were also not shy to integrate political and economic issues into the artworks presented at the event.
Mono8's exhibition featured a tapestry work by Cian Dayrit as part of his "Dominator" series that made use of state emblems and natural objects to challenge perceptions of power and institutions such as the state, military, and the neoliberal economy. Dayrit was among those arrested in Barangay Tinang, Concepcion town in Tarlac in June 2022, during a cultivation activity with farmers in the area.
Human rights, the plight of rice farmers, and the Lumad in Mindanao were also highlighted through the "Panit Bukog: Regional Focus – Mindanao" exhibit.
"I think art has [the] power to convey important messages that is universal and timeless. I think that's why art's important…because it connects people to realities on the ground," said Cris Rollo, who made the terracotta sculpture "Pugot" to depict the universality of human rights.
Art Fair Philippines 2023 runs from February 17 to 19. Tickets can be purchased at https://artfairphilippines.com or directly at the 4th Floor Reception in The Link. You may also follow Art Fair Philippines' Facebook and Instagram pages for more details. – Rappler.com