This is AI generated summarization, which may have errors. For context, always refer to the full article.
Tempers flare as Cambodia head coach Harry Savaya calls a timeout even with their win beyond doubt, much to the chagrin of Gilas Pilipinas' players and coaches
PHNOM PENH, Cambodia – Southeast Asian Games host Cambodia handily beat Gilas Pilipinas in a drama-filled match at the Morodok Techo Sports Complex here on Thursday, May 11.
Tempers flared between the two sides after Cambodia head coach Harry Savaya called a timeout with 20 ticks left even with the result beyond doubt in their 79-68 win, much to the chagrin of the Philippines' players and coaches.
Chris Ross, Arvin Tolentino, and even assistant coach Tim Cone took exception and confronted the animated Savaya, who also made the "night night" celebration popularized by NBA star Steph Curry.
"You all saw what happened. That's just an unwritten rule. It's not even coaching ethics – that's just ethics," said Gilas Pilipinas head coach Chot Reyes referring to the late timeout.
"If the other coach wants to make a fool out of himself, that's on him. It's not our problem."
Cambodia, powered by five naturalized players, led from start to finish as the Philippines struggled to get its offense going, with Justin Brownlee scoring just 10 points on a paltry 3-of-13 shooting.
Gilas Pilipinas had only three twin-digit scorers, while Cambodia saw four of its five naturalized players breach double figures, with Darrin Dorsey netting 22 points built on five treys to go with 7 assists, 4 rebounds, and 2 steals.
As each Cambodia bucket thrilled the home crowd inside the Elephant Hall, Savaya piled on by riling up the locals with his antics.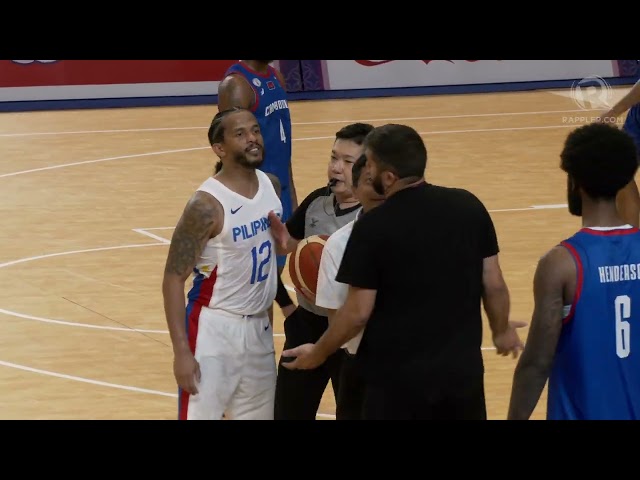 "His actions speak a lot more than anything I can say. His actions will say a lot more about him and his character more than I can ever say," said Reyes.
Now at 1-1 in Group A, the Philippines needs to beat Singapore in its final pool stage match on Saturday, May 13, to reach the final four, where the top two teams from each of the two groups will face off in crossover format.
"This is something we can learn from. We move on to the next game, then we prepare for the knockout semifinals," said Reyes. – Rappler.com