This is AI generated summarization, which may have errors. For context, always refer to the full article.
Gilas Pilipinas redeems itself against a souped-up Cambodian side to recapture the SEA Games gold it lost last year
PHNOM PENH, Cambodia – Gilas Pilipinas refused to settle for a runner-up finish for the second straight Southeast Asian Games.
The Philippines reclaimed its lost glory in SEA Games men's 5-on-5 basketball after a gutsy 80-69 finals win over host Cambodia at the Morodok Techo Sports Complex here on Tuesday, May 16.
Justin Brownlee delivered anew for the Filipinos after his 34-point explosion in the semifinals against Indonesia as he dropped 23 points on a Cambodian side that failed to live up to golden expectations despite bringing in several naturalized players from the United States.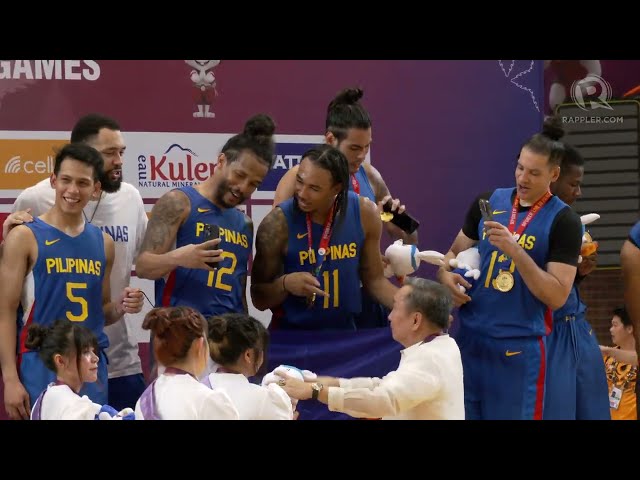 Cambodia won all of its first four games in this SEA Games by double digits, including a convincing 79-68 victory over the Philippines in the group stage.
But Gilas Pilipinas, peaking at the right time with Brownlee finally finding his groove after early struggles with dehydration and cramping due to the heat, rose to the occasion when the stakes were at their highest.
"I know a lot of people doubted this team the first time we lost," said head coach Chot Reyes, who also redeemed himself after the Philippines relinquished its throne to Indonesia last year under his watch.
"We did it. We did it."
Chris Newsome turned in 16 points in the win, Marcio Lassiter put up 10 points, 5 rebounds, and 2 steals, while CJ Perez, Christian Standhardinger, and Brandon Ganuelas Rosser scored 9 points each and combined for 18 rebounds.
The hosts had more players in double figures courtesy of Brandon Peterson (18), Darrin Dorsey (17), Sayeed Pridgett (13), and Dwayne Morgan (13), but the rest of the team combined for 8 points.
"We kept this team of what, five, six imports to below 70 points. That was great defense. In the end, it was our defense that brought us to this gold medal," said Reyes.
Cambodia ended the first quarter up 22-21 until Gilas Pilipinas unleashed a 21-7 tear built on 6 points from Standhardinger and 5 points from Brownlee to grab its biggest lead at 42-29 with three minutes left in the second frame.
The Filipinos led by 13 points three more times, including at the end of the third period, 64-51, before the Cambodians stitched the gap to 5 points off an 8-0 start in the final salvo.
But back-to-back three-pointers from Perez and Brownlee in the ensuing possessions restored order for the Philippines and took the fight out of the hosts, silencing the partisan crowd inside the Elephant Hall.
"I'm just proud of the guys for bouncing back from the first time we played Cambodia," said Brownlee. "We knew it was going to be a tough battle the whole SEA Games. Some really good teams out here."
The Philippines claimed its 19th men's title overall, preventing what would have been the first time since 1989 that the country did not win a gold in any of the basketball events.
Meanwhile, Thailand scooped up bronze by beating Indonesia, 83-69.
The Scores
Philippines 80 – Brownlee 23, Newsome 16, Lassiter 10, Perez 9, Standhardinger 9, Ganuelas-Rosser 9, Lastimosa 4, Tolentino 0, Ross 0, Phillips 0, Amos 0.
Cambodia 69 – Peterson 18, Dorsey 17, Morgan 13, Pridgett 13, Henderson 6, Lopes 2, Ravuth 0.
Quarters: 21-22, 44-33, 64-51, 80-69.
– Rappler.com